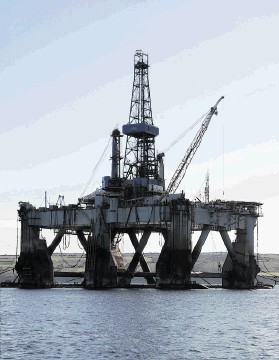 Paragon Offshore Plc's reorganization proposal is so unrealistic that the oil-rig company will run out of cash in less than three years, dissident lenders said at the opening of a bankruptcy court hearing.
Paragon is asking U.S. Bankruptcy Judge Christopher Sontchi to approve its plan to cut debt to $1.4 billion from $2.6 billion, to use its dwindling cash to pay two groups of favored creditors and to let the current owners retain a majority stake.
Confirmation hearings over the plan began Tuesday in Wilmington, Delaware, federal court.
The proposal is built on an assumption that the company can use its aging fleet of oil-drilling rigs to win contracts more quickly in the future than it has in the past, Madlyn Gleich Primoff, an attorney for lenders opposed to the plan, told the judge.
There are hundreds of idled drilling rigs around the world and 100 more being built that Paragon will have to compete against, Primoff said, adding that Paragon's rigs are so old, it will be harder for the Houston-based company to win new business.
Paragon filed for bankruptcy in February after striking a deal with all of its major creditors except its term-loan lenders.
Bondholders owed more than $1 billion would get $345 million in cash and 35 percent of Paragon's equity; revolving-loan lenders owed almost $800 million would get $165 million in cash and new debt; owners would see their stake drop to 65 percent of the company from 100 percent.
"This plan is simply not feasible," Primoff told the judge. "It's absolutely reckless to give $510 million in cash away."
David S. Kurtz of Lazard, Paragon's financial adviser, defended the reorganization plan, saying it cut debt and met all of the company's goals, one of which was to ensure equity owners could retain their holdings.
The confirmation hearing will be spread over five sessions through June 30 before Sontchi decides whether to approve the plan and allow Paragon to exit bankruptcy.
The case is Paragon Offshore Plc, 16-10386, U.S. Bankruptcy Court, District of Delaware (Wilmington).