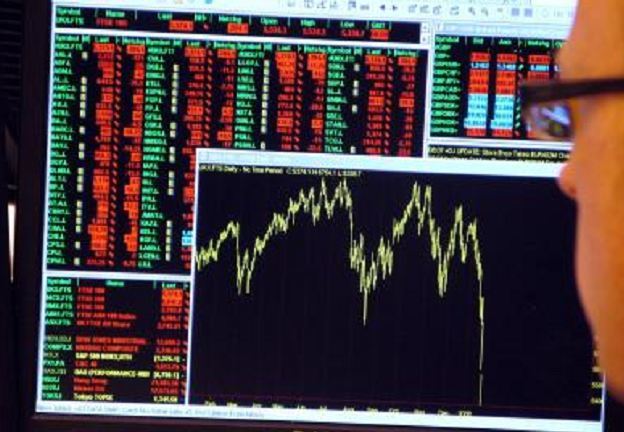 London's top flight index pulled back from its 7% plunge after the Bank of England pledged to intervene to help shore up the markets.
Governor Mark Carney said the Bank is prepared to provide £250 billion to support the markets, but added that "some market and economic volatility can be expected as this process unfolds".
The FTSE 100 Index was down 4% or 275.6 points to 6057.7, as his comments appeared to calm London's premier blue-chip index.
It comes after the London market tanked by more than 400 points following David Cameron's announcement that he would quit as Prime Minister by October after Britain's decision to leave the European Union.
European markets were also clawing back from hefty falls of more than 9%, but remained heavily in the red, with Germany's Dax down 5.8% and the Cac 40 dropping 7.7%.
Sterling began to creep back from its 10% fall in the early hours of Friday morning, as it dropped 7% against the dollar at 1.392 US dollars.
The pound was down just under 5% against the euro at 1.250.
Alex Edwards, head of dealing desk at UKForex, said: "The pound has recovered off of this morning's low. Carney offered some reassurance to a market desperate for it, and cable is back through 1.38.
"The next head to roll is likely to be Osborne, but it's unlikely to give the pound any more impetus – a recovery through 1.40 seems very unlikely at this stage. The US reaction will be interesting, and we could still see fresh lows in the pound today."
The London market resembled a sea of red, with heavy-weight financial stocks and travel firms falling sharply.
However, it was the housebuilders which bore the brunt of the slump, with Taylor Wimpey standing at the top of the biggest fallers, off more than 23% or 46p to 146.4p.
Charles Church-owner Persimmon was also down 23% or 499p to 1598p, while Berkeley Group slid 20% or 685p to 2600p.
Lloyds Banking Group took a hefty hit, down 20% or 15.3p to 56.9p, while Barclays dropped 19% or 35.9p to 150.8p.
Among the travel firms under pressure, British Airways-owner IAG was 19% lower or 104.4p at 423.6p and budget airline easyJet also plummeted 19% or 299p to 1234p.
In retail stocks, Marks & Spencer was off 10% or 39.3p at 327p, while Next slid 9% or 520p to 5015p.
The price of oil took a tumble, dropping 4.2% or 2.2 dollars to 48.76 US dollars (a barrel in the wake of the Brexit decision, with oil majors Royal Dutch Shell and BP falling 67.5p to 1823p and 17.9p to 368.7p respectively.
However, safe haven stocks were soaring as gold rallied to a two-year high at 1358 US dollars, before paring back to 1306.
Gold miner Rangold Resources was the biggest riser, up 16% or 1055p to 7510p, while silver miner Fresnillo climbed 11% or 140p to 1379p, as investors ran for cover as the markets fell sharply.
Recommended for you

Oil and mining companies help push FTSE 100 down