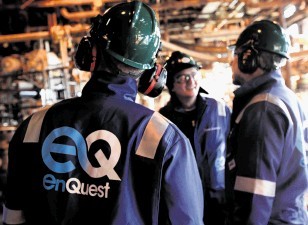 EnQuest said it has completed its financial restructuring.
It comes after the firm received final approval from the US Bankruptcy Court of the Southern District of New York earlier this month.
EnQuest said earlier today it had achieved first oil from the Scolty/Crathes development.
The company said the completion of the work has provided the group with a "stable and sustainable capital structure, reduced cash debt service obligations and greater liquidity."
In a statement, the firm also said restructuring would allow the group to complete the Kraken and Scolty/Crathes developments which the company expects will lead to both significant increases
in production and significant decreases in average unit operating costs across the group.
Chief executive of EnQuest, Amjad Bseisu, said: "We have been delighted at the level of support received for EnQuest's capital restructuring; with 100% backing from our revolving credit facility lenders and hedging banks, 99.9% of votes being cast in favour of the Scheme by the scheme creditors, 98.9% of shareholder votes being cast in favour of EnQuest's general meeting resolutions and backing from all of our surety bonds providers."
Previously, the firm has said its debt restructuring would add £195million to the balance sheet and extend final repayment until 2021.
EnQuest had net debts of £1.38billion as of June 30, 2016.
Recommended for you

OGUK appoints new HSE director from EnQuest