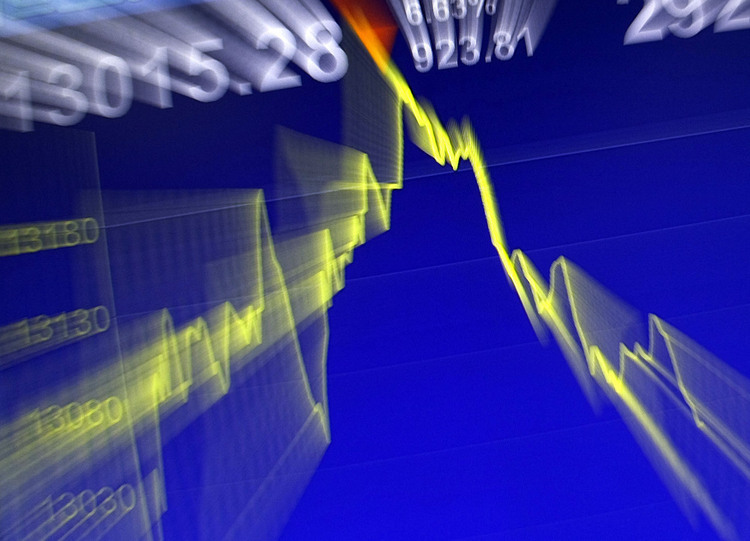 London's top flight index began to edge off record highs despite a flurry of strong Christmas trading updates from British retailers.
The FTSE 100 was down 0.2% at around 7,275 points, marking a climb-down from Wednesday's all-time closing high of 7,290.49.
Positive holiday earnings reports from UK retailers including Marks & Spencer and Tesco did little to boost the blue chip index, which was taking a hit on the back of a rising pound.
Multinational firms listed on the blue chip index tend to benefit from a weaker pound.
Sterling rose 0.5% against the US dollar to 1.227 and was flat against the euro at 1.154.
The greenback extended its decline after a press conference by president-elect Donald Trump failed to deliver further details on US economic plans.
Instead, Mr Trump confirmed he would hand control of his business empire to his two sons, and focused on a dossier said to contain allegations that Russia holds compromising information about him.
Rabobank rates strategist Richard McGuire said: "When it came to details of potential fiscal stimulus (or) tax cuts – or indeed protectionist policies or the lack thereof – the market was to be disappointed."
It overshadowed news from UK retailers which dominated earning reports on Thursday.
Marks & Spencer shares edged down 0.2% as it revealed a 2.3% rise like-for-like sales in its home and embattled clothing division in the 13 weeks to December 31 – the first growth since the first three months of 2015.
Tesco shares fell by 2.4%. Connor Campbell, a financial analyst at SpreadEx, explained investors were "slightly disappointed by its holiday showing", despite notching up a 1.5% rise in group third quarter sales and a 0.3% rise over the six weeks to January 7.
Shares in Primark-owner Associated British Foods fell 3.2% after warning that its operating profit margin would decline throughout the year as it grapples with the impact of the strong US dollar on input costs.
Away from the top tier index, shares in Debenhams rose nearly 5% as a surge in its beauty and gift section helped group like-for-like sales rise 3.5% in the 18 weeks to January 7.
ASOS slumped nearly 1%, despite the company saying it was pencilling in a 25% to 30% rise in full-year sales after sterling's slump since the Brexit vote helped trigger a significant surge in international sales.
JD Sports Fashion soared 9.3% after reporting a near-10% rise in like-for-like sales growth in its second half so far to January 7.
Mothercare rose 3.3% after returning to UK sales growth, as strong online performance helped drive a 1% rise in like-for-like sales over the 13 weeks to January 7.
Superdry brand owner SuperGroup saw shares rise 1.7% after interim results showed a 14.9% rise in like-for-like retail sales in the 10 weeks to January 7.
Shares in AO World plunged nearly 8% after the household appliances retailer said it was "cautious" about the final quarter, "given the uncertain UK economic outlook, currency impacts on supplier pricing and the possible effect on consumer demand".
Away from retail, Barratt Development shares fell nearly 2%. While the company forecast a 7% rise in half-year pre-tax profits to £315 million, the house builder reported a 6% drop in total completions over the period to 7,180.
Across Europe, the French Cac 40 was down 0.4% while the German Dax fell 0.6%.
In oil markets, Brent crude was up 0.16% at around 55.39 US dollars per barrel (£45.13), as investors balanced concerns over rising US inventories, with signs that Opec members and other major suppliers were sticking to pledged production cuts.
Recommended for you

Woodside readies giant Scarborough project despite $4bn loss