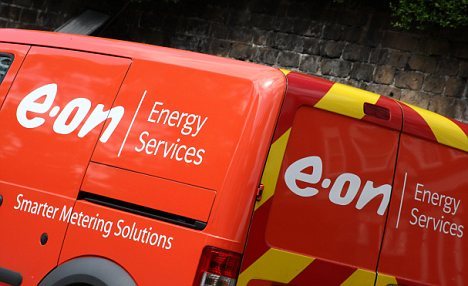 Gas and electricity giant E.ON has criticised Theresa May's plan for an energy price cap as political point-scoring and said it could threaten crucial investment in energy.
The Big Six supplier joined rivals in hitting out at the Conservative Party's election pledge to introduce a cap on poor value standard variable tariffs (SVTs).
A spokesman for German-owned E.ON said: "We are concerned that this intervention has been made for political reasons even though the energy market recently went through a comprehensive and independent two-year review by the Competition and Markets Authority."
He added: "Intervention by Government will harm investor confidence at a time when the country requires significant investment to deliver energy security and the low carbon agenda."
E.ON said it believed the current proposals put forward by the Competition and Markets Authority (CMA) should be "given time to take effect".
The group hiked standard variable dual fuel prices by an average of 8.8% last month as part of the round of recent energy tariff rises.
But it argued that recent price rises are made up of "more than just wholesale market costs and supplier profits" and have been driven by rising costs outside of the control of suppliers, such as investment in distribution networks.
It said: "Energy policy must focus on delivering the lowest cost options available today for meeting the goals of affordability, energy security and climate change."
Bosses at British Gas owner Centrica and ScottishPower have also recently spoken out against the proposal, warning that it could lead to higher bills for consumers and reduce competition.
Centrica said on Monday that it "did not believe in any form of price regulation" and has put forward alternative solutions, while ScottishPower repeated calls on Tuesday for SVTs to instead be scrapped altogether.
The energy industry was sent reeling after the Tories first confirmed the price cap plans last month and shares in energy groups fell again on Tuesday, with Centrica and SSE in the red.
E.ON's comments came as a first quarter trading update revealed the wider parent group's earnings slumped by more than a third in the first three months of the year as it took a hit from the weak pound and falling UK customer numbers.
E.ON posted a 34% plunge in underlying earnings to just over one billion euros (£843 million) for the first quarter after woes in its UK business sent group sales falling by 7%.
The company said it lost customers in the UK amid tough competition from smaller rivals, while the impact from the pound's plunge since the EU referendum also hit revenues.
This left sales in its customer solutions division some 500 million euros (£422 million) lower at around 6.5 billion euros (£5.5 billion) in the first quarter.
E.ON added that higher grid fees and buying costs for power in the UK and Germany also took their toll on first quarter earnings.
The firm has around 4.6 million energy customers in the UK, but declined to give details on how many customers were lost in the three months to March 31.
Essen-based E.ON said it remained on track to hit earnings forecasts for the full-year as it expects the first quarter blow to be "fully offset" over the rest of 2017.