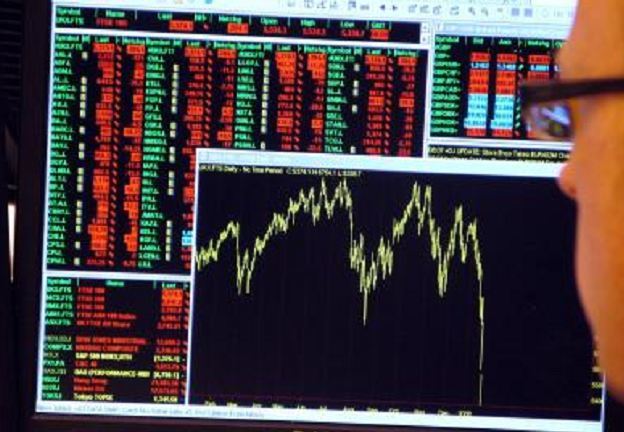 London's premier index rebounded to within a whisker of a new mid-session record after choppy trading for the pound handed a boost to blue-chip stocks.
The FTSE 100 Index was up 20.01 points to 7,546.81, with sterling enduring a tumultuous morning on the currency markets after slumping overnight in response to an election poll pointing to a smaller Conservative lead.
It means the London market is only seven points away from Friday's intra-day record of 7,554.21, putting it in a strong position to beat the all-time closing high of 7,547.63, which it achieved on the same day.
Blue-chip companies, which report in US dollars or euros, get a lift on the FTSE 100 Index when the pound suffers because their earnings benefit from a more favourable currency translation.
The pound was flat against the US dollar at 1.28 and only marginally higher versus the euro at 1.145, after dipping by as much as 0.5% following a YouGov poll indicating that the Tories could lose 20 seats and see its majority wiped out.
The election data is based on a complex model and suggests the Prime Minister's gamble of calling a snap election in the hope of a landslide win could backfire spectacularly.
Connor Campbell, financial analyst at Spreadex, said the UK election was driving trade once again.
He said: "Yesterday's Guardian/ICM survey has the Tories' lead over Labour down to 12 points, while a Times/YouGov poll suggests that Theresa May will fall short of an actual majority by 16 seats.
"Combine that with last week's surveys suggesting just a five or six point deficit for Corbyn to overcome and everything points to Labour having momentum on its side.
"That means sterling is facing a more volatile run-in than many would have predicted back when the Prime Minister announced the snap election in April."
Across Europe, France's Cac 40 edged lower and the DAX in Germany was 0.1% higher.
The price of oil remained under pressure, with rising output in Libya exacerbating concerns about the potency of Opec's production cuts and the likelihood of reducing overall supply in the market.
Brent crude was down 1.1%, or 56 cents, to 51.68 US dollars a barrel.
In UK stocks, supermarket giant Tesco was suffering after a fresh tranche of industry data showed that rivals Aldi and Lidl had grown at their fastest rate since 2015.
The two German discounters reached a joint record market share of 12% as inflation cost families an extra £27 on groceries over the past 12 weeks, Kantar Worldpanel figures show.
However, Tesco increased sales by 1.8% year on year over the period, while Sainsbury's rose by 1.7% and Morrisons by 1.9%.
Shares in Britain's biggest supermarket were down 1.9p to 183.5p, Sainsbury's climbed by 1.6p to 281.3p and Morrisons slipped by 0.1p to 247.5p.
Away from the top tier, London-focused housebuilder Telford Homes pushed higher after delivering record annual profits.
Shares were up 3.8p to 434.3p as the group posted a 5.9% rise in pre-tax profits to £34.1 million for the year to March 31 after sales jumped 19% to an all-time high of £291.9 million.
Recommended for you
X

Sinopec Mongolia receives letter of intent for Petro Matad drilling