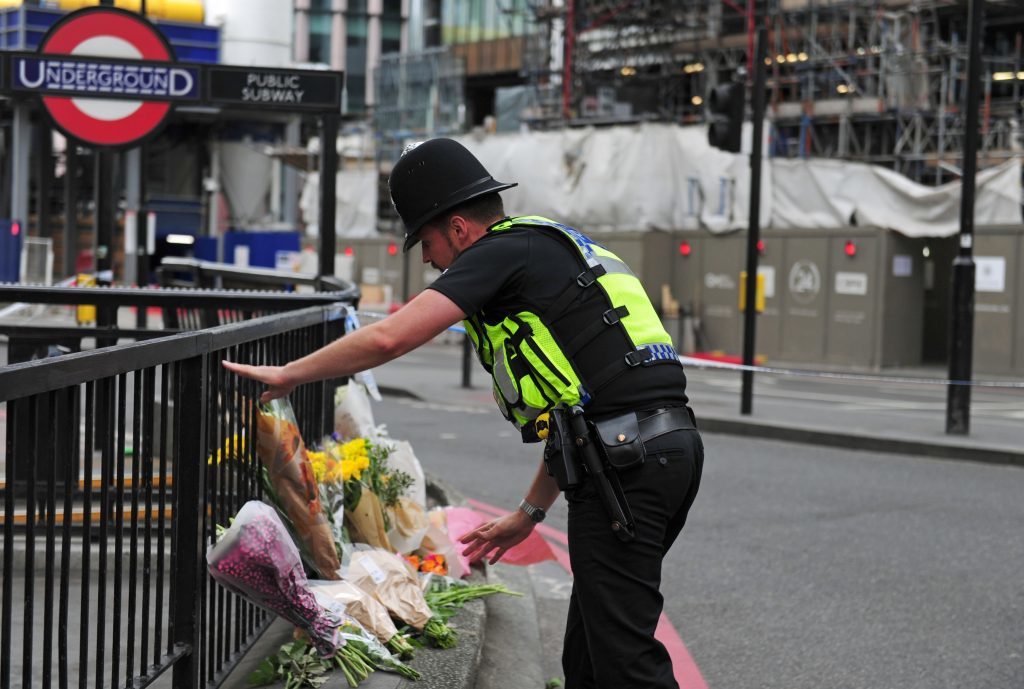 The pound fell in Asian trading after a weekend terror attack in London killed seven people, days before the nation votes in a snap election.
Sterling declined as much as 0.3 percent against the dollar. Leveraged clients are waiting the results of new polls taken after the incident, according to a trader who asked not to be identified as he isn't authorized to speak publicly. The third attack in the U.K. in less than three months comes before the June 8 vote, which will be held as armed police patrol the streets in the greatest show of force for decades.
Sterling has been buffeted over the past two weeks as polls have depicted a tightening race, raising the possibility of a hung parliament. Such an outcome, with either the Conservative Party or opposition Labour Party unable to secure an outright victory, would add to uncertainty just 11 days before Brexit negotiations are due to begin.
"We are still cautious on the pound," said Daniel Been, head of foreign-exchange research at Australia & New Zealand Banking Group Ltd. in Sydney. "Even once this week's election is out of the way, there are still numerous uncertainties surrounding Brexit, in particular on where the common ground for negotiation is with Europe's negotiating parties. At the same time, the economy is slowing."
Options traders are the most bearish on the pound in eight months, risk reversals show. The premium for contracts to sell the currency versus the dollar in one month, over the cost to buy, was at 1.71 percentage points. It reached 1.74 percentage points earlier Monday, the most since October.
"There is a very simple rule of thumb: the larger the Conservative majority becomes, the more positive that is for sterling," Adam Cole, head of global foreign exchange strategy at Royal Bank of Canada, said in an interview with Bloomberg Television before the attack.
GBP/USD fell 0.1% to $1.2866, having dropped 0.8% in the last month Sterling had risen as high as 1.2904 on Friday after U.S. non-farm payroll data missed estimates before the June 13-14 Fed meeting AUD/USD gains 0.2% to 0.7461 Aussie takes out Friday's non-farm payroll-data inspired high of 0.7447 on fund-related buying against the yen and New Zealand dollar, according to Asia-based FX traders AUD/JPY rises 0.4% to 82.51 as Tokyo-based funds buy from 82.05 and adjacent to option strikes at 81.90 AUD/NZD rises for first time in 11 days, gaining 0.6% to 1.0476 on macro-related purchases, some of which were to cover short positions ahead of RBA/GDP event risk this week USD/JPY climbs 0.2% to 110.58 after tumbling 0.9% Friday Treasury 10-year yield rises 1bp to 2.17% Yields dropped as much as 7bps to touch 2.14% Friday, lowest in 2017
Recommended for you

Unprecedented price caps pit Australia's leader against big gas