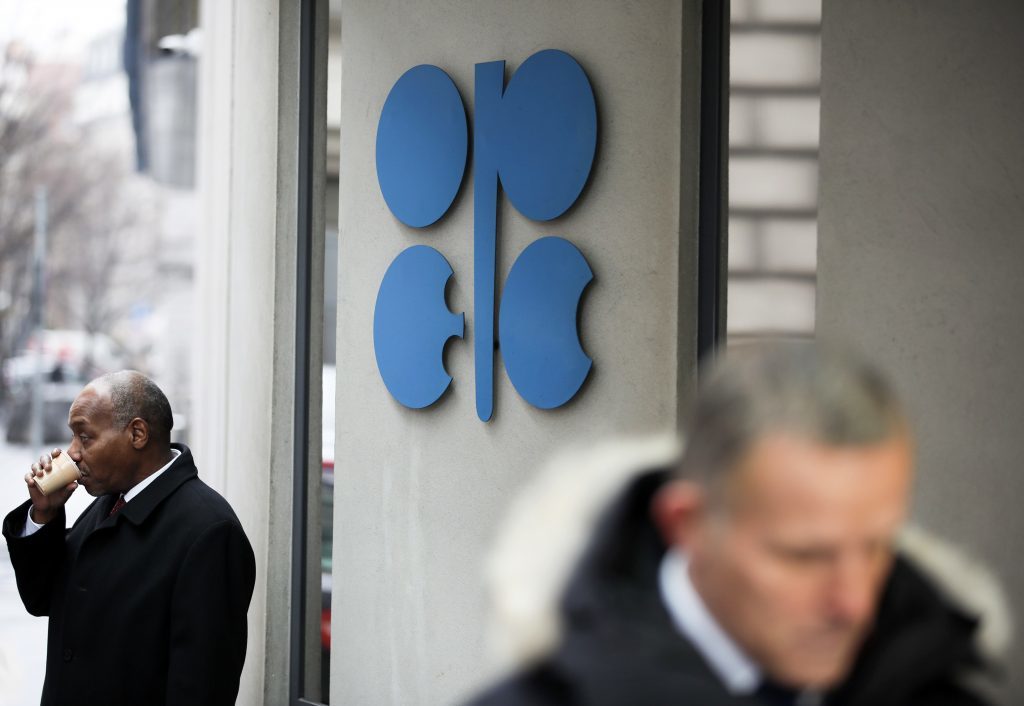 Brent crude oil fell to below $74 a barrel as OPEC and its allies inched closer to reaching an agreement on relaxing output curbs at a meeting in Vienna this week.
Futures in London for August delivery dropped 1.7 percent. Saudi Arabia's energy minister said the group should help consumers by releasing more oil to the market, while opposition from Iran appeared to thaw ahead of OPEC's meeting Friday. Brent's premium to West Texas Intermediate narrowed to its smallest level in three weeks as the drop in the global benchmark outpaced those in U.S. futures.
Oil has traded in a narrow range this month as investors await a decision by the Organization of Petroleum Exporting Countries and its allies on whether to ease production curbs that have helped reduce a global glut. Saudi Arabia and non-OPEC member Russia have spearheaded the push for an output boost, while Venezuela and Iran, which have either experienced or expect a decline in production, have led opposition to ending the curbs before their currently planned expiration at the end of the year.
As delegates head into what was initially expected to be one of their most contentious meetings in years, the odds of reaching an agreement on production appeared to increase.
"I think there's a quiet sense of confidence, opinions are converging," Harry Tchilinguirian, head of commodity-markets strategy at BNP Paribas, said in a Bloomberg Radio interview from Vienna. "The consensus that's emerging is that a 500,000 barrel a day, or maybe up to 1 million barrel a day, output increase may be agreed."
Tight Range
Brent futures for August settlement traded $1.29 lower at $73.45 a barrel at 2:11 p.m. in London on the ICE Futures Europe exchange, after slipping as low as $72.98 earlier. Total volume traded was about 70 percent more than the 100-day average.
West Texas Intermediate crude for August delivery traded at $65.01 a barrel on the New York Mercantile Exchange, down 70 cents. The U.S. benchmark traded at an $8.44 discount to Brent, having earlier narrowed as tight as $8.46, the smallest since May 30.
Help to Consumers
With OPEC's pivotal meeting less than 24 hours away, Saudi Energy Minister Khalid Al-Falih urged the group to help the world's energy consumers by boosting supply.
"The most important thing is the consumers," he said in Vienna. "We're not going to allow a shortage to materialize to the point that markets will be squeezed and consumers will be hurt."
Al-Falih said the group on Thursday planned to discuss "how to release a certain number of additional supply." Saudi Arabia has proposed adding about 600,000 barrels-a-day, according to delegates with knowledge of the talks. Russia has pushed for an even larger increase.
Iranian Oil Minister Bijan Namdar Zanganeh said he was optimistic about OPEC's meeting, after speaking with several counterparts as well as Russian Energy Minister Alexander Novak on Wednesday. Earlier in the week Iran rejected any potential compromise. No proposal has yet won the backing of all of OPEC's members.
Other oil-market news:
Nigeria will remain exempt from OPEC's production quotas until the nation's own output crisis is over, Minister of State for Petroleum Resources Emmanuel Ibe Kachikwu said in Vienna. Libya may soon resume oil exports via Ras Lanuf following recent attacks as staff assess the situation and fix damage at the ports, National Oil Corp. Chairman Mustafa Sanalla said in Vienna. Effects of the U.S. decision to renew sanctions on OPEC member Iran are already spreading beyond the world of crude to some corners of the oil market. Refiners in South Korea, a U.S. ally and one of Iran's largest customers, are shunning condensate from the Islamic Republic. OPEC and its allies are likely to boost output by at least 500,000 barrels a day, JPMorgan analysts wrote in a report.
Recommended for you

Oil set for worst week this year as traders watch for OPEC+ move