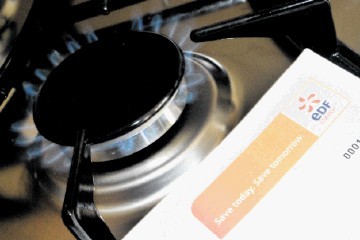 One of the UK's big six energy suppliers has announced that it is cutting the price of its tariffs – sparking new hope that a price war could bring some respite for consumers.
EDF said yesterday that it is reducing gas bills by 5% from February 7 after a drop in wholesale costs.
The move – which comes just three months after the firm put up its charges by 15.4% – is expected to force other major suppliers to do the same.
EDF said it was the last of the major suppliers to raise its energy prices in the autumn and is the first to announce a cut.
EDF chief executive Vincent de Rivaz said: "What customers want more than anything else is fair, clear and transparent prices.
"We know they want action rather than words. That is why we are the first major supplier to announce a cut and were the last to increase prices."
Consumer groups called on other firms to follow EDF's lead after a prolonged period of price rises since the last round of tariff cuts in spring 2010.
Trisha McAuley, deputy director at Consumer Focus Scotland, said: "The cut is not enormous given the scale of increases last year but it creates some important momentum in the market.
"It is now up to the rest of the 'big six' to compete and consumers in Scotland will expect to see prices come down across the board.
"Wholesale prices are at their lowest point in almost a year and the trend is down. Companies argue they follow the global commodity market so it's important all suppliers cut their prices now to help regain consumer trust."
The move comes on the day that an annual energy company satisfaction survey carried out by Which? showed that EDF finished second bottom in a table of the biggest six energy suppliers.
EDF said an average dual fuel bill customer with typical consumption paying by monthly direct debit will face a bill of £1,137 a year, compared with the current figure of £1,218 a year for British Gas. Energy Secretary Chris Huhne said: "Households have faced real difficulties this winter after last year's global gas prices pushed up bills. The situation is now changing, with the cost of gas imports falling, and I welcome that EDF have today responded, joining small suppliers Coop and Ovo by cutting domestic gas bills.
"Some big energy suppliers were quick to pass on rising costs last year, and it is only right that they should now pass on cost reductions to hard-pressed householders as quickly as possible.
"I urge the remaining five large energy suppliers to follow suit and give consumers some respite this winter.
"If suppliers do not reduce prices, consumers can send them a clear message by voting with their feet and taking their business elsewhere."
Recommended for you

Scottish accountant says open energy market has 'completely backfired'