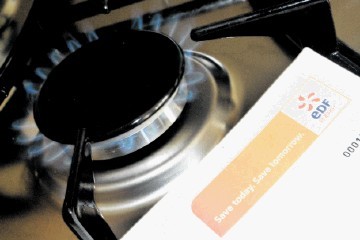 Consumers were dealt a double blow yesterday – with a huge price rise in gas and petrol-pump costs continuing at high levels.
As energy firm EDF announced a 15.4% jump in gas tariffs, becoming the last of the major suppliers to put up prices, it was revealed hard-pressed motorists have seen little or no benefit from the recent fall in crude oil prices.
Drivers have been denied the possibility of a 2p-per-litre price cut on petrol due to a 7% drop in the value of the pound against the dollar since August, says the AA.
Oil prices dipped around 1.5p, it said, but have climbed again as a result of the weaker value of the pound, leaving prices of both petrol and diesel within a fraction of their record high seen in May.
The cost of a litre of petrol is now 135.61p while a litre of diesel is 139.62p, compared with a year ago where petrol averaged 115.07p and diesel stood at 117.54p.
AA President Edmund King said the price of Brent crude was also $10 a barrel out of line with the US equivalent of light crude, something that was potentially worth 5p a litre to UK motorists.
He said: "UK families remain hostage to fuel price movements that buck traditional trends, and oil prices that don't even make sense to experts in the market. Current fuel prices would be worse were it not for UK supermarkets' traditional lag in passing on higher wholesale costs."
Energy giant EDF also revealed a 15.4% leap yesterday in gas tariffs, prompting fears more households will be pushed into fuel poverty this winter.
Average electricity tariffs will also rise by 4.5% in changes that will come into effect on November 10.
EDF's decision means that all of the "big six" power suppliers – the other being British Gas, E.on Energy, Scottish Power, Npower and Scottish and Southern Energy – have now raised their tariffs for the coming winter.
Scottish Power was the first of the "big six" to raise tariffs this year.
EDF chief executive Vincent de Rivaz said it had been able to delay the decision longer than its rivals because of its sourcing of nuclear energy, but added that it must "reluctantly" now pass some of these higher costs through to consumers.
Higher charges will add about 33p a day to a dual-fuel bill, while the annual cost of a standard dual-fuel bill paid for by direct debit will rise to £1,165 against £1,051 previously.
Elizabeth Gore, deputy director of national fuel poverty charity Energy Action Scotland, said more houses would be pushed into fuel poverty. She said: "Record numbers of people in Scotland are now finding it really difficult to afford their energy bills and heat their homes.
"The fuel companies such as EDF must make significant efforts to help customers in fuel poverty to offset the impact of high energy prices."
Trisha McAuley, depute director at Consumer Focus Scotland, said that as the last of the "big six" to up their tariffs, average energy bill would jump to £1,300 annually.
She said: "It is disappointing they have followed the pack and means more consumers in Scotland making tough decisions as we head into the colder months and millions of people cutting back on other essentials to keep warm."
Recommended for you

Australia studies gas price cap to tame soaring energy costs