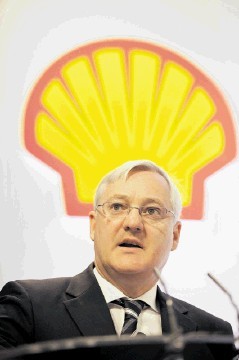 Oil giant Royal Dutch Shell is set to suffer a backlash from shareholders over executive pay, including a £9.4million package for its boss.
Chief executive Peter Voser took home 11.7million euros last year – more than double the amount he earned in 2010 – after lucrative long-term incentive plans paid out.
He earned 5.2millioneuros (£4.2million) inannual salary and bonus awards, which was slightly down on the previousyear, but his total paywas boosted by 6.5million euros (£5.2million) from long-term rewards plans.
Shareholder body Pirc advised clients to vote against the company's remuneration report at its annual meeting on Tuesday after branding its pay "excessive".
Although salaries have effectively been frozen since 2009, it said theyare still at the high endof its UK peer groupand will see increases ofbetween 3% and 5% in 2012.
Pirc is not convinced that long-term incentive plans introduced in 2009 are challenging, adding "the scheme has been shown to offer generous rewards even for hitting just oneof four performance targets".
Shell recently reported an 11% rise in profits to $7.66billion (£4.75billion) for the first three months of 2012, as it cashed in on high energy prices at a time of fuel price misery for British motorists.
As well as high oil prices, with Brent crude at around $120 a barrel, Shell said the profits haul reflected improvements in its own operating performance and better production volumes.
Its first quarter results came after a 54% risein Shell's profits for 2011to $28.6billion (£18.1 billion).
A Shell spokesman said: "Shell's remuneration policy firmly links executive compensation with the performance of the company, and the 2011 outcomes reflect what was a positive year for the company."
Mr Voser has recently told reporters that his pay was being driven by long-term sustainable growth in shareholder value.
He added that the company had had "very good discussions" with shareholders over the past two years and had made changes to the system, but that pay needed to be performance-related.