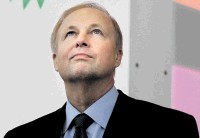 BP has this morning said it is looking into a sale of its share of the Russian oil venture TNK-BP.
In a statement it said it had "received unsolicited indications of interest regarding the potential acquisition of its shareholding in TNK-BP" – estimated to be about a quarter of BP's business.
"In light of these unsolicited approaches and consistent with its commitment to maximising shareholder value, and its obligations under the shareholder agreement, BP has notified Alfa Access Renova of its intention to pursue a potential sale," BP said in a statement.
It added that there could be no guarantees any deal would happen.
Shares in BP were trading up 3% this morning.
Stuart Joyner, an analyst at Investec Bank, said the deal could be worth $27 billion in cash – potentially wiping out all of BP's debts.
He said: "TNK-BP is about a quarter of BP group on most metrics – BP's 2011 dividend from TNK-BP was $3.7bn (though we see this halving), production was 994 million barrels of oil equivalent per day and the book value is $10billion."
He said the said could be born out through a bidding process but that any timetable or process was not yet year.
The other half of the venture is owned by a group of Russian investors, Alfa, Access and Renova groups of companies. TNK-BP employs about 65,000 people.
Earlier this week one of the four Russian entrepreneurs who share control of TNK-BP – the country's third largest oil producer – with BP resigned as head of the joint-venture.
BP said Mikhail Fridman had stepped down for personal reasons but a source at the Alfa-Access-Renova consortium, which represents the Russians' interest in TNK-BP, said they had lost trust in the UK oil major as their partner.
Governance at TNK-BP has been on the brink of collapse since the acrimonious resignation of two independent directors at the end of last year; only one of whom has been replaced.
Last year a share-swap deal between BP and Russian state-owned oil giant Rosneft fell through after a row with TNK-BP.
BP also recently started reporting separate accounts for its share in the TNK-BP venture.
Recommended for you

BP and Eni's joint venture, Azule Energy, begins production in Angola