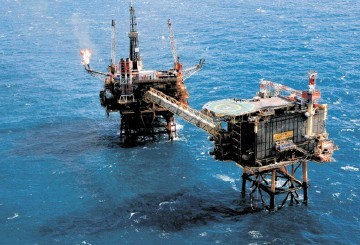 Canadian oil firm Talisman has revealed its North Sea production fell nearly 30% in the past quarter.
The company, due to sell 49% of its UK business for £956million to Chinese oil firm Sinopec, said production in the UK sector in the second quarter slumped to 52,000 barrels of oil equivalent per day (boepd) compared with 73,000 in the second quarter of 2011.
Talisman's Norway production also fell, from 33,000boepd to 23,000, creating a combined North Sea drop of over 29%.
Talisman, which operates out of Aberdeen, said the fall in the UK was due to platform turnarounds, a shut-in to repair a gas export pipeline and mechanical issues at several sites.
Despite the North Sea slump, increased shale gas and liquids in North America and growth in south-east Asia helped the firm to boost production by 4% year-on-year to some 429,000boepd in the second quarter, compared with 412,000 in 2011.
Revenue fell to £1.1billion in the three months to the end of June, from £1.4billion in the same period last year.
Pre-tax profits more than halved, at £339million versus £702million in the second quarter of 2011.
Talisman said this was a result of weaker oil and gas prices, higher operating costs and asset impairments, partially offset by a larger gain on asset disposals, lower exploration costs and lower income taxes.
Chief executive John Manzoni said: "With our recent UK North Sea transaction, we continue to focus and strengthen our portfolio while maintaining a strong balance sheet to weather current low natural gas prices in North America.
"The new joint venture (between Talisman and Sinopec in the North Sea) will spend more on a gross basis to improve operating efficiency and extend the life of these fields.
"The deal will reduce Talisman's decommissioning liability in the UK, decrease future capital commitments and brings forward significant cash. We plan to use about £319million of the proceeds to repurchase Talisman shares."
Recommended for you

Exclusive: Skills passport to 'transform' North Sea oil and gas workforce