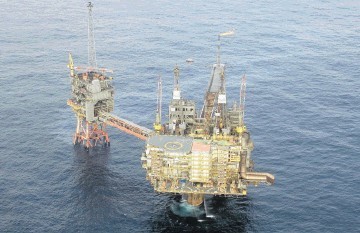 US oil firm Apache said yesterday that drilling successes in the North Sea this year would make a significant contribution to 2012 group production growth.
The firm, based out of Houston but with its North Sea operating headquarters in Aberdeen, said its latest well on the Bacchus development had been successful, as had drilling activity on its newly acquired Beryl assets.
The firm added that, despite recording record production in the second quarter, revenue had fallen.
Group production grew to 774,000 barrels of oil equivalent per day (boepd), up from 748,000 in the same period last year, but revenue was down at £2.4billion, compared with £2.7billion in the second quarter of 2011, because of lower gas prices in North America. Pre-tax profits also fell, from £1.3billion to £519million.
Chief executive Steven Harris said: "Apache is gaining momentum and we project rising production throughout the second half."
Chief operating officer Rodney Eichler said: "Increased output in the North Sea stemming from our drilling successes at Bacchus and the Beryl field are expected to make a significant contribution to Apache's second-half 2012 production growth."
Apache bought Beryl and other assets from ExxonMobil in a £1.1billion deal last year, having entered the North Sea in 2003, with the acquisition of BP's Forties assets.
Apache's 2012 growth was also being driven by onshore drilling in the US, aimed at "liquids rich" areas, buffering it from lower-price gas, said the firm, which also has production in Australia, Egypt and the Gulf of Mexico.
It said its latest well on Bacchus was flowing at 8,500boepd, taking production on its two wells on the field to 12,900 barrels.
Apache said that following completion operations at Bacchus, the Rowan Gorilla VII jackup rig was scheduled to move to appraise the central North Sea Aviat gas discovery.
Recommended for you

Shell North Sea gas prospect dubbed a 'key' well to watch by Westwood