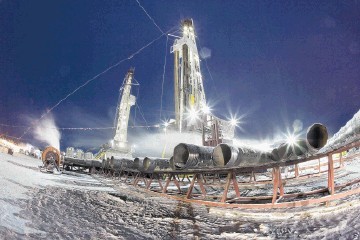 A £9.6billion deal giving a Chinese national offshore oil firm access to the North Sea was given the thumbs up by the shareholders of oil firm Nexen yesterday.
However, Nexen shares were still trading below the offer price last night amid uncertainty over Canadian government clearance of the transaction.
The deal, approved by an overwhelming majority of Nexen shareholders, would see China National Offshore Oil Corporation (CNOOC) take over Calgary-based Nexen.
This includes its assets in Canada, the Gulf of Mexico, west Africa and the North Sea, where Nexen runs the Buzzard oil field: one of the largest producers in the UK basin.
Canada's prime minister, Stephen Harper, has wooed Chinese investment to help develop the country's energy resources, but members of his government have broken ranks to publicly express discomfort with China taking such a large position, especially in the Alberta oil sands, one of the world's biggest deposits of crude oil.
Nexen chief executive Kevin Rheinhart said after the vote that CNOOC had promised to keep the firm's name, staff and retain its Calgary headquarters, from where a further £5billion of assets the Chinese firm already owns in north and central America would also be run.
"This transaction in no way closes the book on Nexen and our way of doing business," he said.
"Instead it will open a new chapter which I believe has the potential to be as exciting as past ones."
Completion of the deal is expected in the fourth quarter, but it still faces regulatory and governmental hurdles, including foreign investment approval in Canada and the US plus approvals from the government of China and in other foreign jurisdictions.
The Canadian government has launched a review of the deal to determine whether it meets a "net benefit to Canada" test. A poll released yesterday appeared to show public support for the deal weakening, with 69% of Canadians saying Ottawa should not approve the takeover, up 12% from a similar poll last month.
CNOOC's bid was announced on the same day Chinese oil firm Sinopec said it was buying 49% of Talisman's North Sea business for £956million to create a joint venture, also expected to complete in the fourth quarter.
Bob Ruddiman, head of Energy and Natural Resources at law firm Pinsent Masons, said about the deal: "It does give the Chinese an extended global presence and access to know-how and from a UK perspective there will be benefits because the new owners will invest in the existing UKCS assets. There may be an additional bonus for Aberdeen if the Chinese opt to use the UK as a hub for further investment in north-west Europe and provinces farther afield."