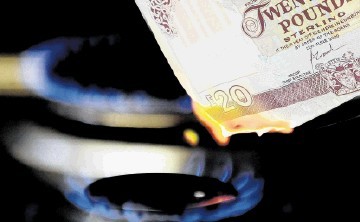 The City watchdog said yesterday it was investigating claims that the wholesale gas market has been manipulated by some energy firms.
The Financial Services Authority (FSA) said: "We can confirm that we have received information in relation to the physical gas market and will be analysing that material."
Energy regulator Ofgem, said it had also received information relating to trading in the gas market.
Energy Secretary Ed Davey said: "I am extremely concerned about these allegations and will be keeping in close touch with the regulators while they get to the bottom of this."
It is understood the Treasury and the Department for Environment were alerted to the allegations – made by a whistleblower and reported by a national newspaper – by Ofgem and the FSA yesterday. Mr Davey is expected to make a Commons statement this afternoon.
An Ofgem spokesman said: "In preparing for full implementation of new EU legislation to tackle market abuse, we will consider carefully any evidence of market abuse that is brought to our attention as well as scope for action under all our other powers.
"Ofgem has already activated its established procedures to review the information we have received." The whistleblower, named as Seth Freedman, claimed the gas market has been "regularly" manipulated by some of the big power companies.
Mr Freedman, who works as a price reporter for ICIS Heren – a company responsible for setting so-called benchmark prices – raised the alarm after identifying what he believed to be attempts to distort the prices reported by the company.
It was also reported that Ofgem has been warned by ICIS Heren that it has seen evidence of suspect trading on September 28, the date that marks the end of the gas financial year.
A Department of Energy and Climate Change spokesman said the government takes abuse in markets "very seriously".
He said: "DECC officials and Secretary of State Ed Davey have been in contact with the FSA and Ofgem since we became aware on Friday, November 9.
"The government has a strong record in providing the regulators with powers to regulate conduct in our markets. Where gaps in powers are identified, action has been taken."
Shadow energy secretary Caroline Flint said: "Labour has said customers are getting a raw deal and gas and electricity companies should be forced to sell the energy they generate into a pool, to open up the market and ensure fairer consumer prices."
A spokeswoman for SSE, which trades in the north and north-east as Hydro-Electric, said: "We are entirely confident that our energy portfolio management team operate in a fair and legitimate way."
A ScottishPower spokesman said: "We have never engaged in trying to fix wholesale gas trading markets. Our trading division always acts with integrity and follows all rules in all of its engagements with the market."
Recommended for you

Energy price cap to be updated quarterly ahead of 'challenging winter'