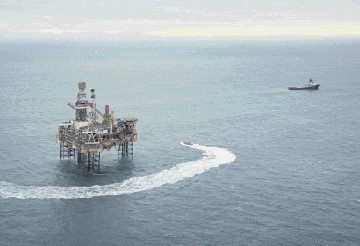 Offshore firm Taqa Bratani has pledged to be operating in the North Sea until the oil runs dry after buying fields from BP for up to £818million yesterday.
Managing director Leo Koot said the deal was "transformational" for the company and had the potential to nearly double the operator's UK reserves and boost its daily production by 50%.
Mr Koot said current plans could extend its North Sea output until 2030, adding that Taqa was "here for the long haul".
He said the operator would take time to assess and invest in its new assets, but added that Taqa may be on the lookout for further opportunities in future.
BP said its sale of interests in central North Sea fields – including its operated stakes in Harding, Maclure and Devenick, as well as its non-operated share in the Brae area and associated pipelines – was part of its strategy to focus on a smaller number of high-value fields.
The deal is worth an initial £662million, with a further £156million dependent on oil price and production. The transaction is expected to be completed next year.
Mr Koot said he was very excited about the BP deal, but added he expected Taqa Bratani – the UK subsidiary of the Abu Dhabi state energy company – to make further investment.
He said: "Excluding this deal we have spent more than $3billion (£1.3billion) in the North Sea and we expect the investment to continue."
Mr Koot added: "We are here for the long haul. We have a long-term view which is not driven by venture capital or stock exchanges – we want to be here until the end of the North Sea industry, and we want that to be a long way away."
BP has now sold nearly £1.8billion of North Sea assets since the start of 2010, but plans to invest around £6.7billion in the region over the next five years.
Bob Dudley, BP chief executive, said: "This transaction is in line with BP's strategy to focus on a smaller number of higher-value assets with long-term growth potential and to continue the simplification of our portfolio with a further reduction of operated infrastructure and wells."
BP was advised by Jefferies in the sale, while Taqa was represented by US investment bank Evercore Partners.
Recommended for you

Picking and choosing investment opportunities