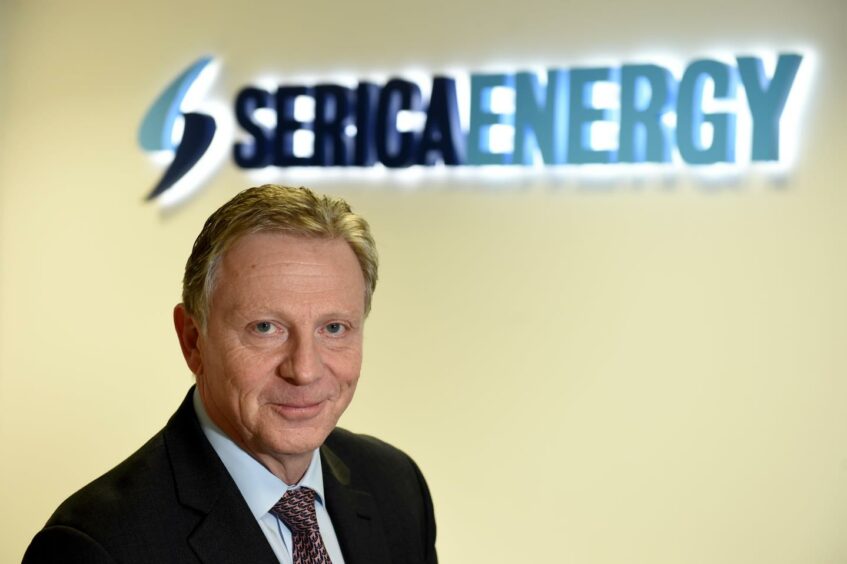 "A really opportune moment" beckons for Serica Energy, according to chief executive Mitch Flegg, with gas prices strong, new production online and, since the turn of the year, reaching a major milestone for its North Sea business.
Important as the current price picture is, Flegg credits decisions made years ago, when Serica acquired the Bruce, Keith and Rhum (BKR) fields from BP and partners, for its current fortunes.
That 2018 deal included a profit sharing agreement – so Serica didn't have to go into debt to pay it – which has now concluded with the new year, meaning the firm owns 100% of cash flows (up from 60%) from BKR, with the overall portfolio weighted 85% as gas.
"That has stood us in really good stead through the last couple of years," Flegg said.
"You've only got to go back 18 months to look at times when gas prices were really, really low."
Being able to stay profitable, and out of debt, thanks to that deal allowed the firm to reinvest in its portfolio, bringing a new production well at the Rhum field – R3 – online in August, followed by the Columbus field in November.
"As we come into 2022 we do see the benefit of that investment," Flegg said, "that doesn't change the strategy though, which is to push on and do more".
Exploration, electrification and the future of Bruce
"We're getting quite excited about the next level of investment and the next projects that we go into in order to keep pushing and producing gas."
There are a pair of projects which could respectively prove key for the future of Bruce, the production platform owned by Serica.
The firm is in the early stages of planning a well intervention campaign, which is hoped to push cessation of production beyond its current date of 2030.
Meanwhile, an exploration well is planned at North Eigg in the summer which sits nearby to the BKR fields and could be a viable tie-back.
Serica's in-house evaluation puts potential combined recoverable resources from the North and South Eigg prospects at around 130million barrels, if successful.
"It is an exploration well, let's not get too carried away about it, but it is the sort of exploration we want to be involved in, infrastructure-led exploration," said Flegg.
"This is not wildcat, going out into the middle of nowhere, elephant hunting in new areas, this is in our own back yard.
"It's adjacent to our existing fields and infrastructure, so if we had a discovery at Eigg, we would benefit not just from the reserves that we find but also from the fact that we would anticipate that we would use our existing facilities as the offtake route for that."
That's a "powerful ESG" story, according to the firm, which accounts for more than 5% of UK gas production, by adding more molecules to the Bruce asset at the same emissions level.
Extending the life of Bruce to 2030 and beyond means that Serica, as with all UK operators, must slash emissions drastically to meet the goals of the North Sea Transition Deal.
Costly electrification projects are needed, in the main, to achieve this, and Serica hopes more molecules can justify what's needed to slash emissions.
"The way that we are approaching that is by looking at bringing more oil and gas across Bruce so that we can extend the life of Bruce and justify the amount of work required to reduce the emissions.
"Eigg is an exploration well but if Eigg comes in then that brings more oil and gas molecules through Bruce, which brings the overall cost down and helps us justify the investment that will be needed to maintain Bruce's future going into the 2030s. If Eigg doesn't work then it's more difficult to justify that investment going into the 2030s, but that's the philosophy that we're following at the moment.
"We have other exploration targets in the area, but really the philosophy is to utilise the capacity on Bruce and that will help us justify the investment we will need to extend the life of it."
Deals on the radar
Getting full value out of existing assets is "one plank" of the strategy, while another is looking at deals to acquire further assets.
The North Sea has been an M&A hotspot in recent months, and while Serica has been active and bidding, it has not made a deal.
Flegg describes his company as "picky" when it comes to ESG credentials and ensuring all barrels are a value-add.
But he acknowledges that, sooner or later, Serica will have to take on new assets and grow the portfolio.
"We're not just out there trying to buy barrels for the sake of it. I don't want to be saying 'oh we produce 100,000 barrels a day'. Really that number doesn't matter, it's about the value of the barrels we're producing.
"We continue to look. We're fortunate we're in the position of a strong balance sheet, no debt, very little decommissioning liabilities, so we're not under pressure to do a deal immediately, but we want to do a deal. That's how we grow the company."
Despite high-profile issues for the sector recently, such as Shell pulling out of the Cambo project, Flegg sees plenty of opportunity in the region, particularly for more nimble players like Serica.
"It means certain activities will be more difficult in the North Sea, it means that some big new developments in new areas will be more challenging. That's not our business, we're not out there exploring to find the next Cambo.
"We're looking for gas projects, close to existing infrastructure that can be tied back, for gas production in the 2020s and the 2030s, not oil production into the 2050s.
"I think you've got to be realistic that it is going to be more challenging for some projects, but if you're nimble and understand your market then there are great opportunities."
"We've all got a role to play in helping the supply chain rebuild."
There remains a question on whether the North Sea may be subject to a windfall tax, reaping the profits of operators enjoying high commodity prices while consumers face hiked energy bills.
Trade body Oil and Gas UK (OGUK) has said such a move could harm investment in the domestic sector, which accounts for less than half of UK consumption with the remainder of its fossil fuels imported.
Mr Flegg largely agreed with that and said he struggled with "the mechanics" of how such a levy would be implemented, potentially becoming self-defeating as domestic firms "that are producing the gas that has the lower-carbon emissions, providing the jobs and providing the energy for this country" are hit.
The big question for 2022, he said, was whether the supply chain could bounce back as demand picks up.
Nearly 35,000 jobs were lost during the opening year of Covid-19 and, as Omicron remains the dominant variant, Serica confirmed that, unlike some operators, it would not introduce a mandatory vaccination policy for its workers.
But while things are expected to get better operationally, "right now it remains difficult as ever" Flegg said as the industry continues to tackle the virus.
"It's pretty hard, but I do think it's going to get better. The good thing that we're seeing is fewer cases of people getting seriously ill, although there's a lot of cases and a lot of people becoming close contacts.
"The questions going forward for me are about whether the supply chain has the capacity to rebound. Some capacity has gone out of the industry, so that's one of the big questions for 2022.
"I believe we do, but I think it's going to be a bit choppy and there's a lot of people who want to get back to doing a lot more than they have been doing and I'm not sure the capacity is there immediately.
"I think we've all got a role to play in helping the supply chain rebuild."
Recommended for you

'Lack of opportunity' in UK sees Serica eye Norway re-entry