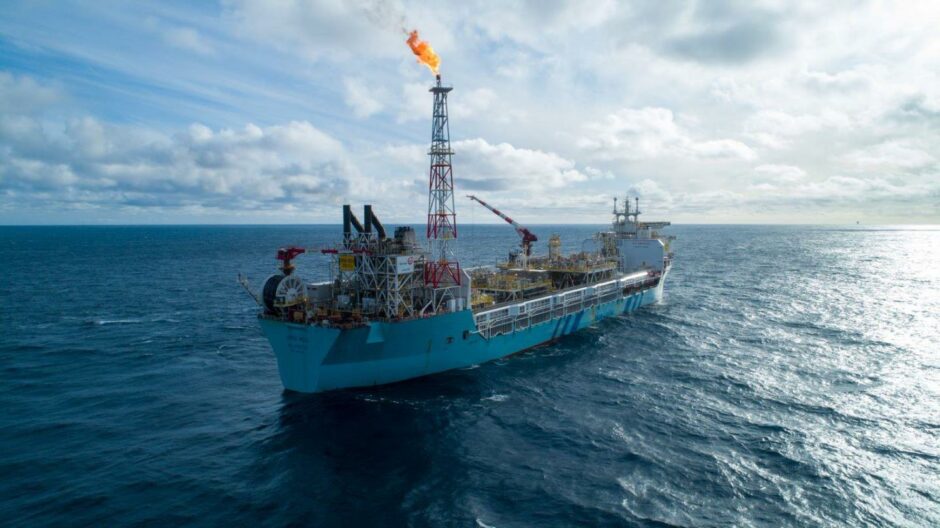 Investment fund Crystal Amber has claimed that prospects for the flagship Hurricane Energy Lancaster field may be better than have been presented, and that it could sustain production to 2025.
The AIM-listed fund currently owns 28.2% of Hurricane Energy (LON:HUR) and is the company's largest shareholder. It describes itself as an activist fund which takes stakes in "undervalued small and mid-cap UK companies" and initiates action to enhance value.
In a January 28 update, the fund's owners said that Hurricane could generate up to $550 million (£409m) in revenues from the field by February 2024, based on production estimates set out last year.
As of January 15, Hurricane was producing around 9,650 barrels of oil per day (bpd) from the P6 well at the 100% operated field, with an associated water cut of about 39%.
Production is tied back to the Aoka Mizu floating production storage and offload (FPSO) vessel, and output averaged 10,000 bpd over the final three months of 2021, the operator said in a recent trading update.
Crystal Amber says that if production from Lancaster continues on its anticipated trajectory, Hurricane should be able to generate revenues of approximately $550m (£409m) and operating free cash flow of $278m (£207m) by 2024, based on Brent prices of $85.4 per barrel and the forward curve.
The fund notes that P6 is currently producing in excess of Hurricane's guidance, with January's output above the 9,100 bpd forecast for that month.
It adds: "The Fund believes that production could be extended through to at least January 2025 and, if so, based on the rate of production decline published by Hurricane in May 2021, this could generate revenues of approximately $750 million [£558m] and operating free cash flow of approximately $375 million [£279m], equivalent to 14p per share."
In the event of any corporate transactions, Crystal Amber said additional benefits to shareholders could also be realised from the company's historic tax losses.
The fund said it had written to Hurricane to request that one of its investment advisers, Juan Morera, be appointed to the company's board with immediate effect.
Production decline
Hurricane's stance on Lancaster's prospects has been more cautious.
In October, the company said its production guidance of 8,500 – 10,000 bpd for the six months up to March 31 2022 would be slightly lower than average production for full-year 2021 "due to the expected gradual production decline from the reservoir over time, partially offset by the higher FPSO uptime assumption."
It has also warned that the field was expected to hit its 'bubble point' – the point at which reservoir pressure declines and gas is liberated from oil – by the middle of February 2022, which "could result in production being reduced or ceased altogether".
This point was reached in December, though Hurricane said it had not encountered any production issues as of mid-January.
Meanwhile, the company is in talks with Bluewater over an extension to the Aoka Mizu FPSO charter beyond its 2022 expiry date. Failure to extend this would also result in the company being wound down sooner than expected, Hurricane has said previously.
Based on performance and oil price expectations, Hurricane's chief executive Antony Maris said that that after clearing its bond debt, the company would have between $8-38m (£6-28m) of net free cash at the end of July 2022, adding that this would need to cover any subsequent working capital requirements until revenue is received from the next lifting of crude.
Hurricane declined to comment on Crystal Amber's recent update.
Life extension
Ashley Kelty, an oil and gas analyst at investment bank Panmure Gordon, said there was "likely to be greater recovery" from the Lancaster field, but that additional work would be needed to sustain production and longevity.
"Given that crude prices are much higher at present – and not likely to soften any time soon – the economic cut-off is likely further out. However, Hurricane is in a trickier position as it would have to extend the lease for the FPSO in order to recover those reserves," he said.
"If it does extend the lease, then it would likely have to reinvest in the field to increase production."
"The next few months will be key – whether Hurricane does extend the lease and manages to repay the remaining debt," he noted, but said that with oil prices at $90/bbl, its lease should be extended.
Activist investors
Relations between the operator and the investment fund have not been harmonious over the past year, as Crystal Amber strongly disagreed with what it called "egregious proposals" during a failed restructuring bid last year.
Crystal Amber also recently witnessed activism within its own ranks, after hedge fund Saba Capital Management acquired a majority stake in the fund and passed a resolution in November requiring it "to formulate proposals to reorganise, reconstruct, or wind up the company".
In response, the fund said it would develop proposals which prioritised "continued realisation of assets and increasing capital returns to shareholders."
It said it would target additional shareholder returns of at least £40m before 30 June 2022, and that it would maximise capital returned to shareholders "by timely disposals, including trade sales of the Fund's strategic holdings, where appropriate."
Recommended for you

Hurricane to carry out planned shutdown of Lancaster following latest cargo lift