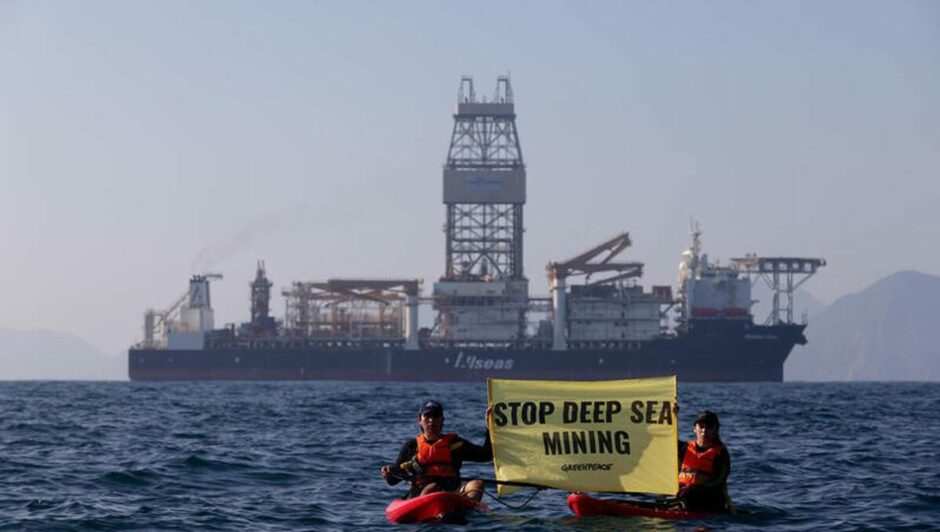 Deepsea mining is arguably the most exciting yet controversial segment of the blue economy, which the United Nations estimates boasts an estimated annual turnover of $3-6trillion.
Mining the ocean floor potentially presents huge new opportunities for the considerable subsea capabilities nurtured by the UK and Norwegian offshore oil & gas industries in particular; but also US, Japanese, Chinese and Brazilian companies too.
However, a bullet-proof subsea rulebook that everyone is willing to sign-up to and stick with does not yet exist.
Talks to agree a common set of rules at the United Nations between almost 170 countries have been going on for years.
The present position is that, if governments don't meet the July 2023 deadline set for drawing up a credible, definitive agreement, companies may start exploiting the seabed without legal restrictions, it is said.
Countries such as the UK, France, Belgium, Jamaica, Russia, China and Japan are said to particularly have their sights set on the metals contained within coal-sized nodules scattered across a vast abyssal plain, called the Clarion Clipperton Zone, 5,000m down in the depths of the Pacific Ocean.
However, France has just implemented a ban covering its territorial waters including possessions such as French Polynesia. But it appears to be token.
Right in the middle of this developing battle for pole position is the tiny Pacific island nation of Nauru, which is poised to unleash Canadian-owned Nauru Ocean Resources Inc on those resources.
On June 25, 2021, Nauru notified the UN agency ISA (International Seabed Authority) of its intention to invoke part of an earlier agreement dating from 1994 and file a plan to exploit these nodules under the United Nations Convention on the Law of the Sea (UNCLOS).
To date, the ISA, which has 167 member nations, has established a regulatory regime for exploration activities relating to three different types of mineral: for polymetallic nodules in 2000, for polymetallic sulphides in 2010, and for cobalt-rich ferromanganese crusts in 2012.
As of 13 months ago, the ISA had awarded 31 exploration contracts, but no applications or contracts for mining have been considered or awarded yet.
As far as can be ascertained, this does not include deepsea diamond mining operations already being carried out by De Beers off Africa.
Call for ban
According to The International Journal of Marine and Coastal Law, the July deadline is not absolute.
It happens that 3,000 tonnes of nodules have been dredged up from the Clarion-Clipperton Zone by a Canadian company using the Allseas ship Hidden Gem, but it may not sell any until there is an agreement.
These nodules hold reserves of battery metals such as cobalt, nickel and manganese, plus copper. They are already considered hugely important to the wholesale transition from high to sustainable low-carbon energy.
However, at the COP27 climate summit, French President Emmanuel Macron went so far as to call for an outright ban on deep-sea mining.
"The oceans must be basically what space was a few years ago: a new frontier for cooperation and multilateralism," Macron said during the summit. "There too, on this issue, we must do everything to protect climate and biodiversity solutions in our oceans."
We don't have to travel half way around the globe to be confronted by the deepsea mining dilemma that confronts the ISA.
Resources
Enter Norway, where collective environmental group concern is growing over the findings of a seabed resources investigation by the  Norwegian Petroleum Directorate (NPD) on behalf of the country's Ministry of Petroleum and Energy (MPE) and disclosed late last month.
The Norwegian Continental Shelf survey has identified "substantial"  (millions of tonnes) of metals and minerals resources ranging from copper to rare earth metals.
"Of the metals found on the seabed in the study area, magnesium, niobium, cobalt and rare earth minerals are found on the European Commission's list of critical minerals," said Kjersti Dahle, director of technology, analysis and coexistence at the directorate.
"Costly, rare minerals such as neodymium and dysprosium are extremely important for magnets in wind turbines and the engines in electric vehicles."
There are three types of mineral deposits present: manganese nodules, manganese crusts and sulphides. All three contain multiple metals, and  are located mainly at depths of 1,500-6,000m. Manganese crusts and sulphides have been found at depths around 3,000m.
Since 2011, the NPD has collected data in the deepwater areas in the Norwegian Sea and the Greenland Sea in cooperation with the University of Bergen (UiB). The University of Tromsø (UiT) has also been included since 2020.
During the period 2018-2021, the NPD itself conducted four expeditions to collect high-resolution seabed data over the most interesting mineral deposits; drilling operations and collection of mineral samples were also carried out.
Impact on sea life
Environmental groups have been quick to demand that Norway postpones its exploration until more studies are conducted to understand the organisms living on the seabed and the impact of mining on them.
There is "a great lack of knowledge" of deep oceans, where new and undiscovered species are potentially to be found, Norway's Institute of Marine Research said in a consultation letter.
Norway's work is being closely eyed by the European Commission, which notes in its 2021 EU Blue Economy Report that it is monitoring developments and continuing to fund research on the impact of deepsea mining activities and on environmentally-responsible mining technologies.
While it doubtless secretly covets Norway's mineral resources potential, the European Parliament adopted a Resolution on international oceans governance in January 2018 calling for a moratorium on commercial deepsea mining exploitation licences until the risks to the environment are fully understood.
"At the international level in 2020 a coalition of 80 non-governmental organisations have advocated for an international moratorium on deep-sea mining following a report that argued that the impacts of polymetallic nodule mining in the Pacific Ocean would be extensive, causing essentially irreversible damage," says the Commission document.
While the Norwegian authorities have been getting on with assessing seafloor resources of potentially enormous importance to the energy transition, the country's oil and gas supply chain has started to sharpen its teeth on valuable early business opportunities.
So too have counterparts in the UK and The Netherlands, various of which have made major contributions to the early successes of the new De Beers diamond mining ship Benguela Gem.
Designed by Norwegian naval architecture firm Marin Teknikk, the 177m vessel was built by the Dutch shipbuilder Damen at its Mangalia facility on Romania's Black Sea coast.
Put to work last year, Benguela Gem is owned and operated by Debmarine Namibia, a joint venture between the government of this West African state and UK-based diamond mining and jewellery company the De Beers Group.
It is the largest purpose-built diamond recovery vessel in the world built thus far and is kitted out with modular mining equipment based on subsea crawlers developed in Cape Town, South Africa and which has an operating envelope of 90-150m water depth.
Potential for Aberdeen
Debmarine Namibia expects Benguela Gem to operate for at least 30 years, adding around 500,000 carats of high-value diamonds to its annual production.
Also watching keenly is the team at the Aberdeen-headquartered Global Underwater Hub which has a useful white paper on diversification opportunities for the huge North Sea oil, gas and increasingly offshore wind-capable supply chain.
GUH says deepsea mining is small-scale just now but could grow almost a hundred-fold by 2030.
"The UK underwater industry could make key contributions in the environmental, robotics, machinery and intelligence areas of the seabed mineral extraction industry," says the paper.
"The seabed mining extraction industry's biggest risk is the potential impact on the environment, exacerbated by the relatively unknown nature of the deep ocean ecosystem and processes.
"With the UK having many of the best marine environmental scientists in the world, along with leading edge technology and research, the country could play a major role in ensuring sustainable seafloor and sub seafloor resource extraction.
"The global demand for minerals and resources for the development of battery technology, particularly in the automotive area, will increase dramatically.
"This will lead to the inevitable exploitation of the seabed where the density and concentration of such minerals are up to eight times greater than in surface deposits, and often at great ocean depths.