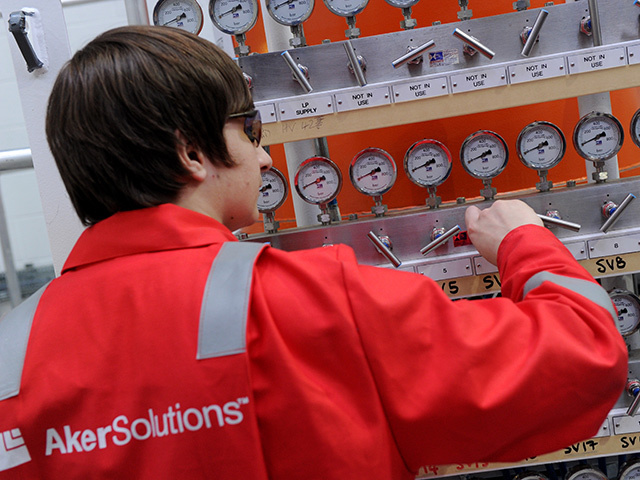 Aker Solutions' board of directors has approved a bid to split the company in two.
The board will also write down the value of some of the assets currently held in the Aker Oilfield Services unit of Akastor, one of the two companies emerging from the separation.
Energy Voice previously revealed the plans to peel off the business streams in a bid to reduce costs and bolster its subsea and engineering services.
Under the plans "New Aker Solutions", which is a recently established subsidiary of Aker Solutions ASA, will apply to list its shares on the Oslo Stock Exchange. Under the demerger it will take over Aker Solutions' Subsea (SUB), Umbilicals (UMB), Maintenance, Modifications and Operations (MMO) and Engineering (ENG) divisions. After its first day listed, the New Aker Solutions will then operate under the Aker Solutions name.
On the same day, the existing Aker Solutions ASA will change its name to Akastor ASA and form part of the Akastor Group which will consist of other subsidiaries that have not been transferred to New Aker Solutions. The Akastor Group will manage Drilling Technologies, Process Systems, Surface Products and Aker Oilfield Services, as well as Business Solutions, some financial assets and real estate.
The demerger faces the final hurdle of shareholder approval, which is expected to come next month.
The board has already determined that 35.2% of Aker Solutions' share capital will be allocated to Aker Solutions – renamed Akastor – and 64.8% will be allocated to New Aker Solutions.
The board also agreed to cut its losses and write-off £152million (NOK £1.6billion) in assets.
Total in Angola cancelling a two year contract for the Skandi Aker vessel contributed to the losses. The move had a devastating impact on the firm's Oilfield Services and Marine Assets (OMA) business stream.
The company said the write-off will have no effect on the New Aker Solutions as OMA will become part of Akastor.
Earlier this week the firm announced it was finding new employment opportunities for more than 200 employees after a weakened Norwegian marketplace affected its offshore maintenance and modifications department.
Øyvind Eriksen, chairman of Aker Solutions and CEO of Aker ASA, said while the company was doing all it could to avoid mass redundancies he could not fully rule it out.
Recommended for you

Indonesia lagging Malaysia as CCS starts to grip Southeast Asia