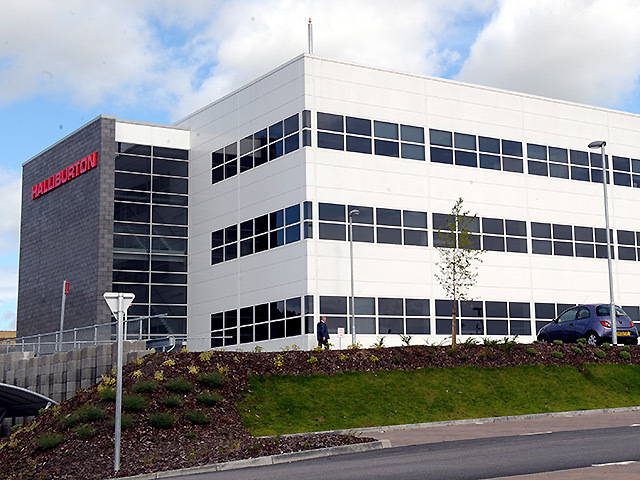 Halliburton is in talks to buy Baker Hughes Inc in a deal that would combine two of the largest and oldest names in the energy business as plunging oil prices send the industry into a downturn.
By eliminating a competitor, Halliburton, already the world's second-biggest provider of oilfield services, would gain market clout that would help insulate it from a sustained market decline.
A combination of Halliburton with No. 3 Baker Hughes would be a little more than half the size of larger rival Schlumberger Ltd.
"The two gorillas in the room are getting together," said Ed Hirs, who lectures on energy economics at the University of Houston. "Halliburton and Baker Hughes would have been competing more strenuously to maintain market share in the downturn, but this will make that easier."
Baker Hughes rose 15% yesterday to $58.75 a share in New York, giving the company a market value of more than $25 billion. Halliburton rose 1.1% to $53.79, giving it a market value of about $46 billion.
The deal will probably be closely scrutinized by federal antitrust regulators, especially where the two companies' businesses overlap most in North America.
With Baker Hughes, Halliburton fills a gap in its portfolio of oilfield services: technology to boost production in aging wells. Halliburton also gets Baker Hughes' prized oil tools business.
"These oilfield services companies need to have a global footprint of a complete portfolio of products and services," Richard Spears, vice president at Tulsa, Oklahoma-based industry consultant Spears & Associates said in a phone interview. "Schlumberger has it; a Halliburton-Baker Hughes combination would mimic the Schlumberger footprint."
In a statement yesterday, Baker Hughes said it is in "preliminary discussions" with Halliburton about a "potential business combination." If negotiations are successful, a deal could be announced as soon as next week, said one person familiar with the matter, asking not to be identified discussing private information.
Halliburton doesn't comment on market speculation, Emily Mir, a spokeswoman at Halliburton, said in an e-mail.
Halliburton initiated talks by contacting Baker Hughes several weeks ago, said one of the people with knowledge of the talks. Both companies are hired by oil and natural gas explorers to drill wells and provide services such as hydraulic fracturing, or fracking, which cracks rock to let petroleum flow more freely.
Discussions of late have focused on potential anti-trust issues and Halliburton has explored options such as setting up a unit to hold assets it's willing to divest, this person said. If the deal is completed, Halliburton and Baker Hughes will probably announce to regulators a willingness to sell assets to overcome anti-trust concerns, the person added.
Halliburton may have to divest more than 20% of Baker Hughes to clear regulatory scrutiny, this person added.
Combined, the companies would dominate the $25 billion US onshore fracking market with a 39 percent market share, more than double the size of its next competitor, Schlumberger, according to Spears & Associates.
Schlumberger's lead outside the US and Canada would be considerably weakened by a Halliburton-Baker Hughes deal. Schlumberger's international sales of $8.3 billion in the third quarter, more than double that of a stand-alone Halliburton, would outstrip a combined Halliburton-Baker Hughes by less than one third if a merger happened.
It's unlikely the deal could make it through the US Department of Justice without "something having to be carved off," said Edward Muztafago, an analyst for Societe Generale in New York.
Baker Hughes would be Halliburton's largest acquisition, topping a 1998 purchase of Dresser Industries Inc. for about $8 billion, data compiled by Bloomberg show. Halliburton's $14 billion in deals has lagged Schlumberger's $27 billion in takeovers, the data show.
The takeover could be the largest of a US oil services company, data compiled by Bloomberg show, and potentially the largest in the energy sector since Kinder Morgan Inc. (KMI) said in August it would acquire all of Kinder Morgan Energy Partners LP (KMP), Kinder Morgan Management LLC and El Paso Pipeline Partners LP in a series of transactions valued at about $44 billion.
Oil prices dropped to four-year lows yesterday as booming US crude production combines with a shrinking forecast of demand growth. Lower prices could curtail drilling, meaning lower sales for Halliburton and its peers.
Prices should bottom out next year and begin climbing again, Dave Lesar, chief executive officer at Halliburton, said Oct. 22 in an interview from his Houston headquarters.
Both companies have century-old pedigrees in the business. Baker Hughes has its roots in billionaire Howard Hughes Jr.'s empire, started by his father in 1909. Hughes Tool Co. merged with Baker International in 1987.
Halliburton was started in 1914 when Earl P. Halliburton borrowed a team of mules along with a wagon, a pump, and a cement-mixing box to start a business cementing oil wells.
Halliburton reported third-quarter earnings that climbed 70% from a year earlier, and is expected to boost earnings 30 percent this quarter. The company, which has doubled its quarterly dividend over the past two years, reported cash of $2 billion at the end of the third quarter.
Baker Hughes said earnings rose 10% in the third quarter.
Credit Suisse Group AG is advising Halliburton on the talks while Goldman Sachs Group Inc. is advising Baker Hughes, one of the people said. Representatives for both banks declined to comment.
Recommended for you

Schlumberger storms to $2.4bn profit in 2021