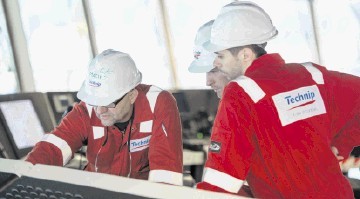 Technip approached seismic contractor CGG in a £1.2billion merger proposal which was rejected by the company.
The French services company confirmed it had wanted to enter into a "contstructive dialogue" with CGG regarding the integration and development of its reservoir, data processing and seismic activities with Technip.
However, a short statement released by CGG confirmed it had dismissed the offer.
The company said: "CGG confirms having been approached by Technip in an unsolicited manner in respect of a potential combination.
"CGG has considered that the conditions to pursue were not met."
Technip said it first approached CGG earlier this month with plans to create a "first tier oil and gas services provider."
A company statement said:"Technip would be ideally positioned to best address its clients' increasingly complex cost and project challenges. As part of this project, Technip would reinforce and then separate the Acquisition Division of CGG.
"Given the intrinsic strengths of this division and its people, Technip expects this business to become a sustainable leader in a sector that has its own characteristics."
Earlier this week, oil major Halliburton confirmed it had bought Baker Hughes in a $34.6billion deal.
Recommended for you

Exclusive: BP acquires JX Nippon stakes in North Sea Andrew Area