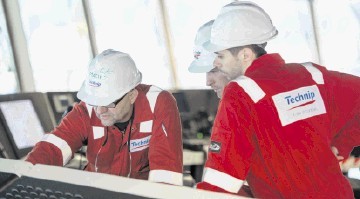 Struggling seismic surveyor CGG has knocked back a £1.2billion takeover bid from French energy services giant Technip amid a nosedive in oil prices that has sparked a sector-wide consolidation drive.
Technip, which has about 1,400 staff at its Aberdeenshire headquarters in Westhill, made the approach earlier this month.
Commenting yesterday on its decision to rebuff the offer, CGG said that "the conditions to pursue were not met."
It employs a total of more than 20 people at two dedicated processing centres in Aberdeen, one for Shell and another for BP.
The move comes hot on the heels of news that US energy majors Halliburton and Baker Hughes plan to merge in a £22billion deal. Those two firms employ thousands of people in the north-east of Scotland and expect to finalise the tie-up in the second half of next year.
Oil prices have slumped from a June high of $115 a barrel to less than £80, while exploration costs have soared, causing industry players to scrap plans for large-scale projects in favour of absorbing smaller energy firms.
A combination of the Halliburton-Baker Hughes mega-deal and the market conditions had given rise to speculation that more similar deals in the sector would follow.
The French government owns shares in both CGG and Technip, and Paris is thought to have been a driving force behind the failed approach.
Technip said yesterday it wants to enter into a constructive dialogue with CGG's board regarding the bid, which it says is founded on a strong strategic and industrial logic.
The company said: "This industrial logic involves the integration and development of CGG's reservoir and data processing and seismic equipment activities within Technip."
"This combination would create a unique value proposition in our industry, offering technology, engineering, equipment and project management from the reservoir across the entire production system."
Technip added that it is confident that a deal can be completed with CGG, which posted a net loss of £74million in the third quarter and in August announced plans to scrap about 1,000 jobs worldwide.
CGG, whose technology is used to locate and estimate the size of reserves under ocean floors, is weighing up whether to sell should a higher offer come in, Bloomberg reported, citing sources close to the two companies.
Investec analyst Neill Morton said that while the Halliburton-Baker Hughes pact makes sense given the current market conditions, the motivation for a merger between Technip and CGG was far less obvious.
"While broadening one's service offering has been a key driver of oil-field services sector consolidation over the past decade, CGG's seismic plus Technip's engineering and construction and subsea fabrication plus installation are not obvious bedfellows in the value chain," Mr Morton said.
Technip will have to convince that "the hand of the French government is not at work" in trying to engineer a deal, he added.
The value of CGG's shares on the Paris exchange had increased by more than 22% to £5.21 at closing on Wednesday.
As of yesterday afternoon their value had gone up by 23.6% to £6.44. Technip shares were down 7.03%.