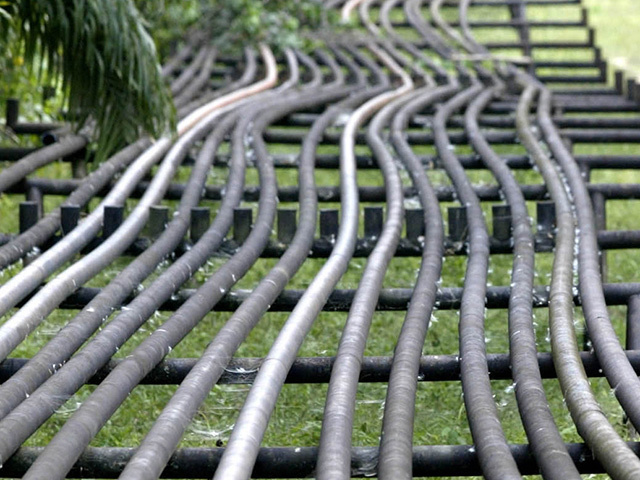 Oil extended losses to trade below $45 a barrel amid speculation that US crude stockpiles will increase, exacerbating a global supply glut that's driven prices to the lowest in more than 5 1/2 years.
Futures fell as much as 2.6% in New York, declining for a third day. Crude inventories probably gained by 1.75 million barrels lasweek, a survey shows.
The United Arab Emirates, a member of the Organization of Petroleum Exporting Countries, will stand by its plan to expand output capacity even with "unstable oil prices," according to Energy Minister Suhail Al Mazrouei.
Oil slumped almost 50% last year, the most since the 2008 financial crisis, as the US pumped at the fastest rate in more than three decades and OPEC resisted calls to cut production.
Goldman Sachs Group Inc. said crude needs to drop to $40 a barrel to "re-balance" the market, while Societe Generale SA also reduced its price forecasts.
"There's adequate supply," David Lennox, a resource analyst at Fat Prophets in Sydney, said by phone today.
"It's really going to take someone from the supply side to step up and cut, and the only organization capable of doing something substantial is OPEC. I can't see the US reducing output."
West Texas Intermediate for February delivery decreased as much as $1.19 to $44.88 a barrel in electronic trading on the New York Mercantile Exchange and was at $44.94 at 2:26 p.m. Singapore time.
The contract lost $2.29 to $46.07 yesterday, the lowest close since April 2009. The volume of all futures traded was about 51% above the 100-day average.
Brent for February settlement slid as much as $1.31, or 2.8%, to $46.12 a barrel on the London-based ICE Futures Europe exchange.
The European benchmark crude traded at a premium of $1.24 to WTI. The spread was $1.36 yesterday, the narrowest based on closing prices since July 2013.
US crude stockpiles probably rose to 384.1 million barrels in the week ended Jan. 9, according to the median estimate in the survey of six analysts before the Energy Information Administration's report.
Supplies have climbed to almost 8% above the five-year average level for this time of year, data from the Energy Department's statistical arm show.
Production accelerated to 9.14 million barrels a day through December 12, the most in weekly EIA records that started in January 1983.
The nation's oil boom has been driven by a combination of horizontal drilling and hydraulic fracturing, or fracking, which has unlocked supplies from shale formations including the Eagle Ford and Permian in Texas and the Bakken in North Dakota.
The UAE will continue plans to boost its production capacity to 3.5 million barrels a day in 2017, Al Mazrouei said in a presentation in Abu Dhabi.
The country currently has a capacity of 3 million and pumped 2.7 million a day last month, according to data compiled.
OPEC, whose 12 members supply about 40 percent of the world's oil, agreed to maintain their collective output target at 30 million barrels a day at a November 27 meeting in Vienna. Qatar estimates the global surplus at 2 million a day.
In China, the world's biggest oil consumer after the US, crude imports surged to a new high in December, capping a record for last year.
Overseas purchases rose 19.5 percent from the previous month to 30.4 million metric tons, according to preliminary data from the General Administration of Customs in Beijing today.
For 2014, imports climbed 9.5% to 310 million tons, or about 6.2 million barrels a day.
Recommended for you

Brent oil climbs to 2014 high as geopolitical unrest returns