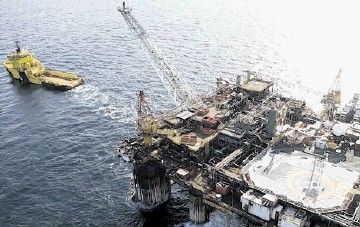 North Sea oil and gas company Ithaca Energy expects to spend nearly 60% less than last year as it moves towards production start-up from its Greater Stella Area (GSA) development during 2015.
The Aberdeen-based firm expects Greater Stella, which is in the heart of the Central Graben area of the central UK North Sea, to come on-stream in the third quarter of this year.
Ithaca said its reduced spending – it is budgeting for just over £99million this year, which it said was nearly 60% less than last year – reflected the advanced status of its GSA investment programme and lower output enhancement costs.
About two-thirds of the 2015 budget relates to the GSA, with the balance set aside for the completion and tie-in of Ithaca's ongoing Ythan development well, continuation of its Wytch Farm well workover programme, asset maintenance activities and two Norwegian wells.
In an operational update yesterday, Ithaca also said 2015 "base" production – not including any contribution from the GSA – was likely to total around 12,000 barrels of oil equivalent (boe) a day.
Average production in 2014, including a full-year contribution from assets acquired from Japan's Sumitomo Corporation, was about 12,300 boe per day.
This year's output will be impacted by the end of production this month from the Beatrice area in the Moray Firth, with the leased facilities there due to be transferred to owner Talisman Sinopec for decommissioning.
Production has been boosted recently by the re-start from the Causeway area fields following an unplanned shutdown, and also from the Pierce field following work on the Haewene Brim floating production, storage and offloading facility.
Key to GSA start-up is completion of the FPF-1 floating production facility modifications being carried out by energy service giant Petrofac.
Ithaca said: "Further details will be provided during the year on the anticipated start-up schedule for the field as additional information becomes available from Petrofac on the timing for sail-away of the FPF-1 from the modifications yard in Gdansk, Poland.
"Given the schedule of activities for 2015, capital expenditure is expected to be weighted towards the first half of the year.
"The programme is forecast to be fully funded on an annual basis by operating cash flows generated from the company's currently producing asset portfolio, based on current Brent oil prices and reflecting the benefit of the oil price hedges that have been executed and anticipated operating costs for the year."
Ithaca has about 6,300 barrels of oil per day hedged at an average price of $102 per barrel, way above the current market price for crude.
Recommended for you

'Thousands' to stage week of protests against Shell Jackdaw field