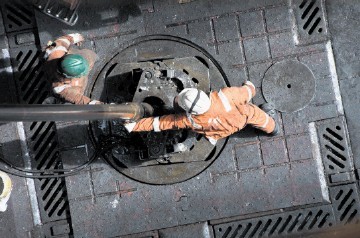 Talisman Energy Inc., the Canadian producer being acquired by Spain's Repsol SA, reported about $1.37 billion in one-time charges for the fourth quarter as it reduced the value of certain assets because of slumping crude-oil prices.
"The company partially impaired its investment in the Eagle Ford by $614 million due entirely to price declines, and fully impaired its investment in Block K44 in the Kurdistan region of Iraq by $234 million after determining that future investment in a capital constrained environment was unlikely," Calgary-based Talisman said in a statement on Marketwired Tuesday.
It also wrote down North Sea assets and a joint venture with Colombia's Ecopetrol SA.
Talisman joins other oil companies, including BP Plc, in lowering the value of assets after oil prices fell by more than half from a June high. The industry has cut more than $40 billion in spending and fired thousands of workers as oil prices dropped to five-year lows.
Talisman's fourth-quarter net loss widened to $1.59 billion, or $1.54 a share, from a loss of $1.01 billion, or 98 cents, a year earlier. The company said it still expects the takeover by Repsol to happen in the second quarter.
Talisman's North Sea business has suffered falling output and high costs, as aging facilities require unplanned maintenance. Concern about the value of the North Sea unit led Repsol Chairman Antonio Brufau in August to walk away from a non-binding initial offer of $13 a share for Talisman, according to a regulatory filing. Repsol agreed to acquire Talisman in December for $8 a share.
The company lowered the value of its offshore unit in the U.K. and Norway by $185 million in the fourth quarter of 2013, as a decline in investment in the region reduced reserves.
Given the oil market meltdown, additional reductions to the North Sea unit's value are to be expected, Chris Feltin, a Calgary-based analyst at Macquarie Group Ltd., said in a February 3 interview.
"I'm not sure it would be something that's going to get in the way of a deal at this point," Feltin said. "If there is deal risk, it will be more centered on what's going on in the crude market currently and less on news coming out in the fourth quarter."
Repsol's $8.3 billion takeover would make good on the Spanish company's effort to boost reserves and production with acquisitions. Talisman Chief Executive Officer Hal Kvisle said in December that the crude price slide has crimped the producer's ability to fund growth, making a sale the best option.
For more market info click here.
Recommended for you

Malaysia's Petronas doubles profits as oil and gas markets remain volatile