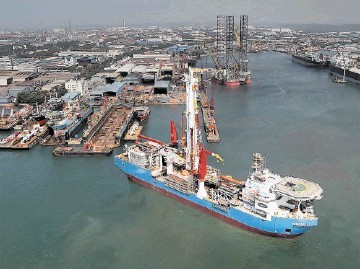 Noble Group Ltd., under attack from an anonymous group alleging accounting malpractice, said it swung to a loss in the fourth quarter due to a tumble in commodity prices and asset write-downs.
Asia's biggest commodity and energy trader reported a loss of $240 million in the three months ended December 31, compared with a net income of $117 million a year earlier, according data.
Sales fell 14% to $21 billion. The loss was the first since the third quarter of 2011, the data show.
The results come as Hong Kong-based Noble's accounting practices are questioned by a group calling itself Iceberg Research.
The initial report a week ago sparked a decline of as much as 15 percent in the stock in two days. Noble has denied the allegations, including overstatement of the value of a stake in Yancoal Australia Ltd.
Noble said it has written down the value of Yancoal by $200 million as part of $438 million in impairments for last year, which includes losses from joint ventures.
"They're heeding Iceberg's points to some degree, with the asset impairment particularly on Yancoal," Nicholas Teo, an analyst at CMC Markets in Singapore, said.
"It's a good first move. Noble will have to address other issues such as their high debt levels. Short-terms borrowings have been rising over the last few years when revenue growth has been flattish. There's a bit of disparity there."
Earlier today, Noble said Ernst & Young LLP agreed to sign off on the accounts, hours after an initial delay in securing the auditor's approval sent its bonds tumbling. The delay occurred after the company said Ernst & Young needed more time to review its own internal processes after Iceberg published a second report.
Noble was untraded today in Singapore before the earnings were released as the company asked for a halt.
With the downturn in commodity prices in the last two years, Noble has moved away from investing directly in resource assets and sold control of its food division to China's Cofco Corp. and a group of investors for $1.5 billion in 2014.
Instead, Noble has put money into companies that manage resource assets, removing itself from direct operational duties while retaining the right to market the products made by the ventures.
Among these investments, Noble has invested in an oil venture with EIG Global Energy Partners LLC and a mining firm started by former officials of Xstrata Plc.
Full-year net income fell 46 percent to $132 million. Revenue gained 4.2 percent to $85.8 billion, on 278 million metric tons of commodities shipped. Operating income from its supply chain was $1.49 billion for the year.
Noble's second-largest investor, the sovereign wealth fund China Investment Corp., in September cut its stake in the company to 9.4 percent from 13.8 percent.