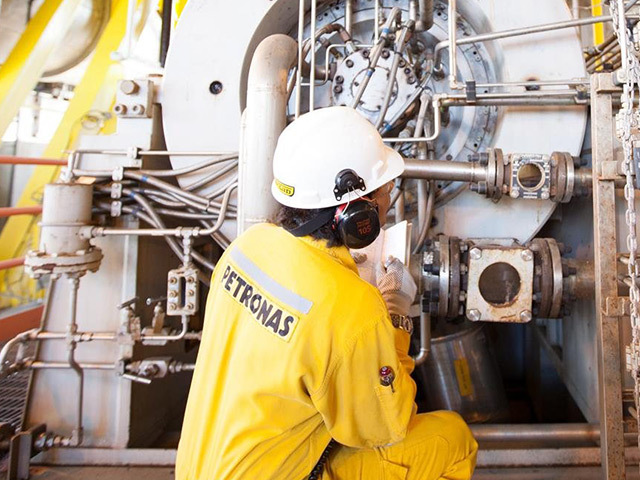 Petroliam Nasional Bhd., the Malaysian state oil company preparing for a leadership transition in April, reported a loss in the fourth quarter following crude's plunge.
The loss was 9.9 billion ringgit ($2.7 billion) in the three months through December 31, compared with a 9.6 billion ringgit profit a year ago. Revenue dropped 6.4% to 79.4 billion ringgit.
Wan Zulkiflee Wan Ariffin will succeed Shamsul Azhar Abbas as president and chief executive officer at a time when the slump in crude is eroding earnings needed to narrow the state budget deficit.
Oil is rebounding from the lowest prices in almost six years as US-based drillers, pumping crude at a record pace amid a shale boom, reduce the number of active rigs.
"Petronas Group is taking steps to reduce its planned capital investments and operating expenditure in order to mitigate the potential adverse effect on its profitability and cash flows," the company said in a statement today.
Natural gas futures dropped to $2.58 per million British thermal units on February 6, the lowest since 2012, while Brent futures are down 44% since June.
Petronas derived 21% of its revenue from gas and an equal amount from crude, with petroleum products being the biggest contributor to its revenue, according to 2013 annual results.
Brent for April settlement climbed $1.08 to $61.13 a barrel on the London-based ICE Futures Europe exchange at 4:30 p.m. in Kuala Lumpur. Brent will average $55 per barrel in 2015, Shamsul told reporters in Kuala Lumpur today, revising his November estimate of $70 to $75 per barrel this year.
Shamsul will step down at the end of next month after leading the company for five years.
Wan Zulkiflee, currently chief operating officer and head of Petronas' downstream business, oversees the company's $27 billion spending plan in a refining and petrochemicals project in the southern Johor state bordering Singapore.
A challenge he faces this year is to balance the company's investment needs and the government's request for dividends as profit drops.
Petronas will pay Malaysia's government, its sole shareholder, a dividend of 26 billion ringgit from 2014 profit of 37 billion ringgit, Petronas Chief Financial Officer George Ratilal told reporters in Kuala Lumpur. Planned capital spending will be cut by as much as 30 billion ringgit over the next two years, he said.
Petronas won't generate enough cash from operations this year to cover capital spending and dividend commitments, said Vikas Halan, a Singapore-based vice president at Moody's Investors Service Inc., estimating the shortfall to be at least 10 billion ringgit.
The Kuala Lumpur-based company plans to sell as much as $7 billion of dollar-denominated Islamic bonds in what may become its biggest such sale to date, people familiar with the intention said this month.
The last time Petronas sold dollar notes was in 2009, when it issued $3 billion of bonds payable in 10 years.
Petronas deferred its final decision to build a C$36 billion ($29 billion) liquefied natural gas project in Canada's British Columbia in December, citing low oil prices. While BG Group Plc also delayed its proposal, Exxon Mobil Corp. is pushing ahead with plans to spend as much as C$25 billion to export LNG from Canada.
Petronas has sold a 15 percent stake in the so-called Pacific NorthWest LNG project to China Petrochemical Corp., or Sinopec, in April.
This followed earlier stake sales to Japan Petroleum Exploration Co., Indian Oil Corp. and Brunei National Petroleum Co. Petronas has said it aims to reduce its share in the development to as low as 50%.
Recommended for you

Oil trading giant Vitol posts record profit of $4.2 billion