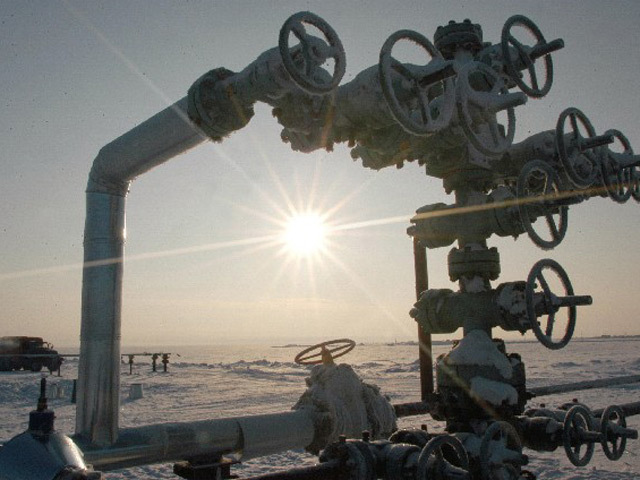 Lukoil said profit fell 39% last year as crude prices slumped and Russia's second-largest oil producer reported asset impairments from Kazakhstan to West Africa.
Net income dropped to $4.75 billion from $7.83 billion in 2013, the Moscow-based company said in an e-mailed statement on Tuesday. Impairments of $2.34 billion were partly countered by a $1.89 billion hedging gain from oil trading.
The results come after OAO Gazprom Neft posted a 31% decline in profit on Monday as oil prices plunged and a weaker ruble led to foreign-exchange losses, while OAO Novatek last week said earnings dropped 66 percent. Lukoil has cut total spending, while maintaining development deadlines for Caspian and Siberian projects.
"The results are poor, in line with what we saw in Gazprom Neft and Novatek," Alexander Nazarov, an oil and gas analyst at Gazprombank. "They should have been better given the hedging gain, which may be a historical record."
Lukoil shares climbed 1.1 percent to 3,060.7 rubles as of 2:56 p.m. in Moscow. Brent for April settlement gained 2 percent to $60.73 a barrel on the London-based ICE Futures Europe exchange.
The impairments included dry-hole write-offs of $794 million on projects in Ivory Coast, Ghana and Russia, Lukoil said. The company also took a charge of $761 million related to Tsentralno-Astrakhanskoe gas-condensate field in the Volga region.
"Tsentralno-Astrakhanskoe is in a flood zone which makes it ecologically difficult," Nazarov said. "The deposit is also deep and complicated. Current oil prices may have rendered some of the reserves uneconomic and led to the impairment."
Oil and gas production rose 5.1 percent to the equivalent of 2.31 million barrels a day with the addition of output from the West Qurna-2 deposit in Iraq, the company said. Oil output climbed 7 percent to 97.21 million metric tons, Lukoil said.
Capital expenditure reached $15.4 billion last year, while free cash flow was $925 million, the company said. Earnings before interest, taxes, depreciation and amortization were $15.98 billion, Lukoil said. Sales rose 1.9% to $144 billion.