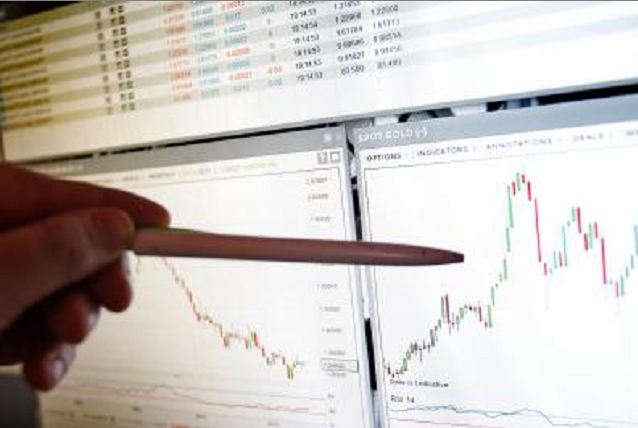 A day after their biggest gain in six weeks, US stock indexes mostly fell yesterday as oil continued to slide and investors fretted over when the Federal Reserve will raise a key borrowing rate.
Low rates have helped stocks soar over the past six years. The Fed kicked off a two-day meeting yesterday to discuss rates, and will release a policy statement today.
Losses were small, but spread across industries. Nine of the 10 sectors of the Standard & Poor's 500 index dropped, led by a 1.2% fall in raw-material companies.
Randall Warren, chief investment officer of Warren Financial Service, said he is not worried about higher rates, but is bracing for more price swings nonetheless.
"The economy is stronger, and can handle it and people will realise that," he said. "But now we're in the fear phase."
The S&P 500 fell 6.99 points, or 0.3%, to 2,074.20. The Dow Jones industrial average lost 128.34 points, or 0.7%, to 17,849.08. The Dow jumped 228 the day before.
The Nasdaq composite edged up 7.93 points, or 0.2%, to 4,937.43.
Energy stocks sank as the price of oil slid for the sixth straight day to another six-year low. US benchmark crude fell 42 cents to close at 43.46 dollars a barrel in New York.
In its statement released today, the Fed is widely expected to drop the word "patient" in describing how long it will wait to raise rates. Many economists think that will signal the Fed will make its first move in June.
Others are not so sure, with some predicting the central bank will wait until next year.
Mixed signals on the economy have been adding to the uncertainty.
US employers have added more than 200,000 jobs in each of the past 12 months, and the unemployment rate has fallen to 5.5%. That is the lowest rate in seven years.
On the down side, a report on Monday showed output at the nation's factories fell for a third straight month in February.
Yesterday, the US commerce department said construction of new homes plummeted 17% in February from the month before, to a seasonally adjusted annual rate of 897,000. Bad winter weather in the north-east and midwest was mostly to blame.
House builder stocks dropped on the news. Hovnanian Enterprises fell 8 cents, or 2.4%, to 3.27 dollars.
The euro strengthened to 1.0603 dollar from 1.0578 dollar. The dollar was unchanged at 121.37 yen.