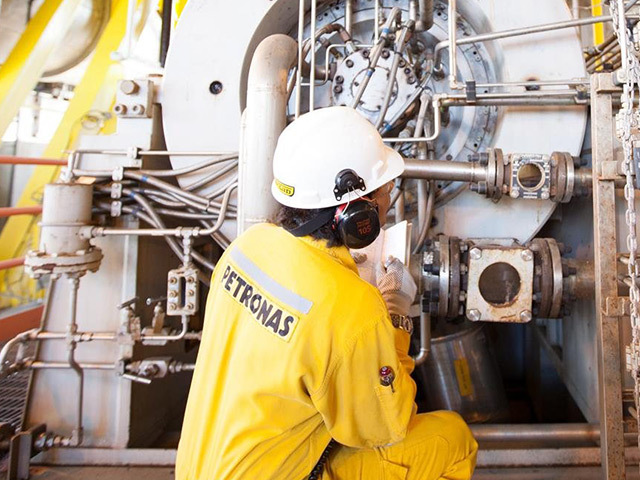 Petroliam Nasional Bhd., Malaysia's state oil company, posted a 43 percent decline in first-quarter profit after a plunge in crude oil prices.
Net income dropped to 9.3 billion ringgit ($2.6 billion) in the three months through March 31, compared with 16.2 billion ringgit a year ago, the company said in a statement today. Revenue fell 21 percent to 66.2 billion ringgit, as lower oil prices offset an increase in production.
The company expects sustained low oil prices to affect its 2015 performance. Excess supply on the back of moderate global oil demand continues to put pressure on crude, it said in the statement.
"We view this period of low oil prices as an opportune time to relook at our internal processes," Wan Zulkiflee Wan Ariffin, who took over as president and chief executive officer last month, told reporters in Kuala Lumpur Friday.
"Petronas has revised its plans and activities accordingly, holding back on expensive and high-risk exploration activities and redirecting our resources."
While oil has rebounded from a six-year low in March after tumbling almost 50 percent in 2014, it will take many years before the fuel trades anywhere near $100 per barrel, Wan Zulkiflee said earlier this week. Analysts from Goldman Sachs Group Inc. to Societe Generale SA are predicting the rally won't last as a surplus persists.
Brent dropped 16 cents to $66.38 a barrel on the London-based ICE Futures Europe exchange as of 4:32 p.m. in Kuala Lumpur. Petronas cut its projection for Brent to an average of $55 per barrel in 2015 in February, from a November estimate of $70 to $75 per barrel.
The company said in February that planned capital spending will be cut by as much as 30 billion ringgit over the next two years. A challenge Wan Zulkiflee faces this year is to balance the company's investment needs and the government's request for dividends as profit drops.
Petronas plans 70 billion ringgit of capital expenditure this year, lower than its initial budget, Chief Financial Officer George Ratilal said at news conference today. The company incurred about 60 billion ringgit of capital expenses in 2014.
The company plans to pay 26 billion ringgit as dividend to the government in 2015, compared with 29 billion ringgit a year ago.
Canada's British Columbia and a group of companies led by Petronas said this week they reached a preliminary deal on taxes and royalties for a proposed C$36 billion ($30 billion) liquefied natural gas project.
The provincial government and Petronas-led Pacific NorthWest LNG said the memorandum of understanding sets a path toward forging a final investment decision on the project.
Petronas will make conditional final investment decision on the project in the next few weeks, CEO Wan Zulkiflee said today.
Petronas had deferred its final decision on the project in December, citing low oil prices. Last week, a British Columbia aboriginal community rejected almost $1 billion in compensation from Pacific NorthWest, a setback for the project.
Recommended for you

Choosing fast FLNG to cash in on sky-high gas prices