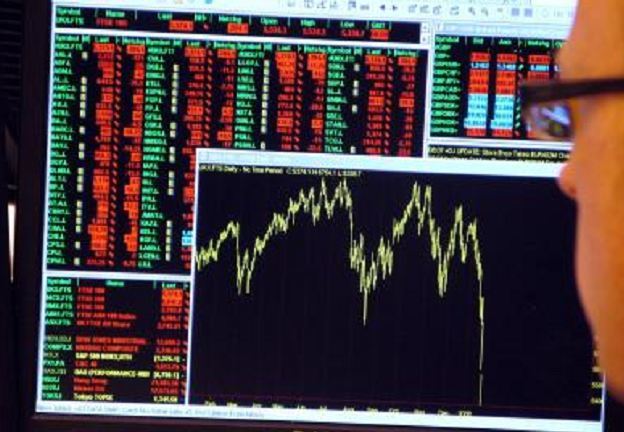 US stocks declined for the fourth time in five sessions, as results from Viacom Inc. and Twenty-First Century Fox Inc. disappointed while energy shares fell with oil.
Viacom and Fox slumped at least 10 percent after joining a parade of media companies reporting disappointing results. Keurig Green Mountain Inc. plunged 30 percent after cutting its sales and profit forecasts.
Marathon Oil Corp. and Apache Corp. sank at least 1.4 percent. Michael Kors Holdings Ltd. added 12 percent after posting better-than-estimated results.
The Standard & Poor's 500 Index lost 0.4 percent to 2,092.34 at 9:59 a.m. in New York, after adding 0.3 percent on Wednesday. The Dow Jones Industrial Average fell 92.40 points, or 0.5 percent, to 17,448.07. The Nasdaq Composite Index also decreased 0.5 percent.
"The guidepost for market direction will come Friday due in part to the jobs report," said Chad Morganlander, a money manager at Stifel, Nicolaus & Co. in Florham Park, New Jersey. "It's really about if the jobs number will alter the message from the Federal Reserve. The market in the short-term is also taking its guidance from earnings and future forecasts from management, which have been mixed in general."
Nvidia Corp. is among 14 companies reporting earnings today. About 85 percent of S&P 500 members have already released figures, with three-quarters beating profit estimates and half topping sales projections. Analysts now call for a 2.8 percent drop in second-quarter earnings, shallower than July 10 estimates for a 6.4 percent fall.
Investors are also watching economic reports to gauge when the Fed will increase interest rates. A report today showed jobless claims rose by 3,000 to 270,000, hovering near four- decade lows as employers hold on to more workers in response to increased demand following a slump in early 2015.
Friday's monthly payroll data will be parsed for indications on the likelihood of a September rate increase, with a particular interest in any signs of stronger wage growth. The government's report is projected to show employers took on 225,000 workers last month, while the jobless rate held at a seven-year low of 5.3 percent.
"If the number is above 225,000 and there are signs of wage pressure, then good news will certainly be met with a negative response," said Stifel's Morganlander.
The S&P 500 snapped a three-day losing streak Wednesday amid better-than-expected earnings from technology companies. The gauge is coming off its best monthly gain since February, and closed Wednesday 1.5 percent below its record set in May.