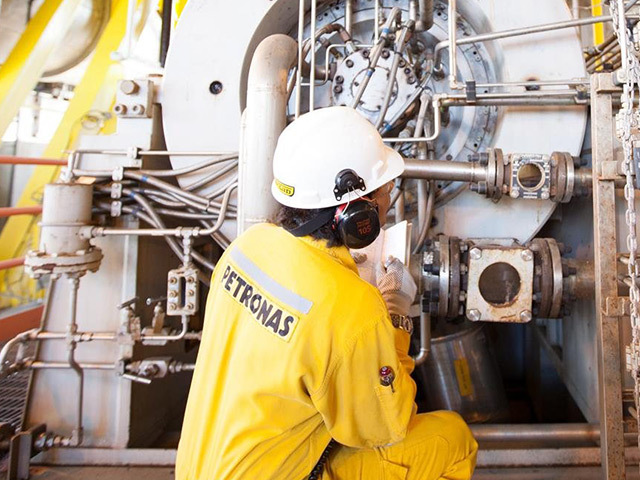 Malaysia's Petroliam Nasional Bhd (Petronas) PETR.UL on Friday said cash from operations will cover neither capital expenses nor committed dividends for 2015, forcing the state-owned oil firm to draw on reserves and further cost savings.
Petronas contributes almost half of Malaysia's oil revenue. But weak global prices have depressed income, leaving the country with a devalued currency and at risk of a credit-rating downgrade, while debts mount at state investment fund 1MDB.
"We will have to persevere with more austerity measures," said Petronas President and Group Chief Executive Wan Zulkiflee Wan Ariffin at an earnings briefing.
Petronas said net profit fell 47 percent to 11.1 billion ringgit ($2.73 billion) in April-June due to weaker crude oil prices as well as lower sales of oil and liquefied natural gas.
Still, "all the plans are in place" to meet the 26 billion ringgit dividend promised to the government this year, Wan Zulkiflee said.
He said cost savings reached 600 million ringgit in the first half of 2015, and that oil prices will likely remain low for the rest of the year. "There's growth in demand, but growth in supply is a lot bigger," he said.
Petronas booked its first quarterly loss in five years at the end of last year, but returned to profit in January-March.
In February, the firm said it would cut capital expenditure by 15 percent this year to cope with lower oil prices, and its dividend to the government by around 10 percent.
Petronas in June said it would move forward with its Pacific NorthWest liquefied natural gas project in British Columbia if it gains approval from Canada's environmental regulators.
"We are at the tail end of the process and are confident of the outcome," said Wan Zulkiflee said on Friday.
The $11 billion project has come up against opposition from Canadian aboriginal groups. The Lax Kw'alaams First Nation Band rejected an offer of C$1 billion ($765.99 million) in May in return for supporting the project, saying the development threatens salmon habitat next to the project's terminal site.
Petronas has received agreements from four of five groups it has been talking to, Wan Zulkiflee said.
Recommended for you

Malaysia's Petronas doubles profits as oil and gas markets remain volatile