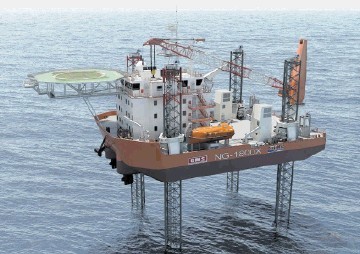 Offshore support company Gulf Marine Services' fleet expansion programme is on track to deliver substantial growth following a strong first half to 2015.
The company posted its half-year results which saw profit and revenue up as its fleet utilisation proved resilient and boosted confidence that earnings would continue to improve throughout the rest of 2015.
Revenue increased by 8% to US$98.2million compared $90.7million in the same period in 2014 and pre-tax profit for the six months to the end of June was $36.1million, up from $34.3 million a year earlier.
Gulf Marine, which provides self-propelled self-elevating support vessels to the offshore energy sector, said fleet utilisation was 98%, with charter day rates in line with its guidance. It said its fleet expansion programme is now more than half complete and is on time and on budget. The three new vessels it has commissioned most recently have been immediately deployed to new contracts.
With a significant reduction in planned special projects for the second half of the year, combined with the new vessels already delivered this year and a third one to be added in quarter three 2015, Gulf expects an increase in total available days of more than 25% in the latter half of 2015, of which over 95% of the total available days has already been contracted. This should lead to a significant increase in earnings.
Chief executive Duncan Anderson, said: "We have maintained high fleet utilisation of 98% with charter day rates in line with guidance. Our backlog remains healthy and its weighting towards opex-related work gives us greater resilience to ride out the current challenges facing the industry."
"Our remaining fleet expansion programme is progressing on time and to budget. We are keeping a watchful eye on the impact of the reduced oil price. Although day rates are subdued in Europe, activity levels in the MENA region remain particularly buoyant and we are continuing to review the prospects for further development of the scale of our fleet beyond the current expansion programme."
"Given the group's continued success in winning contracts for the new vessels, we expect to see growth in our revenue earning capacity feeding through to the bottom line and dividend prospects in 2016 and thereafter," he added.
In July, the Abu Dhabi-based group agreed a deal with ConocoPhillips to carry out decommisssioning work in the Southern North Sea using one of its large class advanced self-propelled self-elevating support vessels (SESVs).
Recommended for you

Seaway 7 looks for $650m financing to complete wind vessels