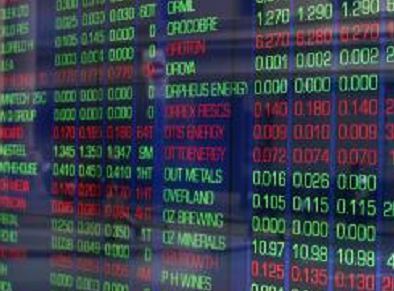 London's FTSE 100 Index surged 2.2% higher as a profit upgrade from supermarket Sainsbury's and gains from hard-hit miner Glencore spurred on the latest blue chip rebound.
The top tier added 129.9 points to 6039.2 – after losing 200 points over the previous two sessions – amid a global market fight-back as equity volatility shows no sign of abating.
Markets rose overnight on Wall Street and Asia, with Europe following suit.
The Dax in Germany and France's Cac 40 were also more than 2.5% higher.
But experts said global markets were still on track for their worst quarterly performance for four years after a lengthy rout that first started in August as fears emerged over China's slowing economy.
In London, the rally was also helped by economic cheer as the latest national accounts figures from the Office for National Statistics (ONS) revealed the UK economy emerged from recession more strongly than previously thought.
The ONS said growth was stronger between 2011 and 2013 than first estimated as it also confirmed second quarter growth of 0.7%.
Figures also showed Britain's current account deficit narrowed sharply to £16.8 billion in the second quarter thanks to a surge in exports and growth in earnings on investments overseas.
Among stocks, Sainsbury's saw its shares soar by 14% or 31.1p to 260.4p after it said full-year profits would now be "moderately" ahead of City expectations after narrowing sales declines in its second quarter.
The chain posted a 1.1% drop in like-for-like second-quarter sales, excluding fuel – its seventh quarter of falling sales in a row.
But the decline was better than the 2.1% fall seen in the previous three months and Sainsbury's said it saw the number of sales and transactions rise, while it added that lower average basket spend in supermarkets continued to stabilise.
Other supermarkets followed it higher, with Tesco 11p up at 182.3p and Morrisons 11.4p ahead at 167.5p.
Mining giant Glencore gained further ground after a dramatic 29% slump on Monday after reissuing a statement first released late yesterday assuring it was "operationally and financially robust" and pledging to slash its 30 billion US dollar (£19.8 billion) debt pile by a third.
Its shares rose by another 10%, or 8.1p to 88.3p, following a 17% bounce-back yesterday.
Energy giant SSE also gained strongly after a bullish update, lifting 4% or 57.5p to 1494.5p after saying it expected to earn around a third of its full-year profits in the first half after a robust performance from its wholesale arm and "relatively good" half-year for its residential energy supply business.
Recommended for you

Poorer nations face unrest as wealthy countries snap up fuel