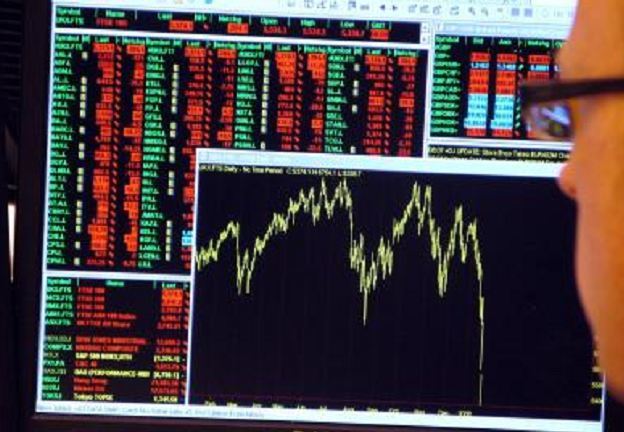 Halliburton Co., the world's largest fracking services provider, said it had a third-quarter loss as the volatile North American oil market continued to tumble.
The company reported a loss of $54 million, or 6 cents a share, compared with net income of $1.2 billion, or $1.41, a year earlier, the Houston-based company said in a statement Monday on Businesswire. Excluding certain items, the per-share result was 4 cents more than the 27-cent average of 34 analysts' estimates compiled by Bloomberg. Sales dropped 36 percent to $5.6 billion.
"It was a challenging period," Luke Lemoine, an analyst at Capital One Southcoast in New Orleans who rates the shares the equivalent of a buy and owns none, said in a phone interview before the results were released. "Most people at the beginning of the quarter were expecting things to level off. Well, they continued to more or less crash."
Oil has swung between a bear and a bull market in North America this year as the drilling rig count slid. Explorers have cut more than $100 billion from global spending plans for the year after crude prices fell by more than half since June 2014.
Schlumberger Ltd. predicted last week that it will be 2017 before the industry recovers from the worst oil market rout in decades.
"The market is underestimating how long this period is going to take," Paal Kibsgaard, Schlumberger's chief executive officer, said on a conference call with analysts and investors after the world's largest oilfield services provider reported a 49 percent drop in third-quarter profit.
To survive the downturn and better compete with its largest rival, Halliburton, the second-largest oilfield services provider, is looking to sell assets to win regulatory approval for its acquisition of No. 3 Baker Hughes Inc., a deal valued at $34.6 billion when it was announced in November 2014.
Halliburton took one-time charges of $319 million after taxes in the quarter related to the lower value of its assets due to the oil market downturn and costs related to the Baker Hughes deal.
Prices that service companies charge for hydraulic fracturing, which blasts water, sand and chemicals underground to release trapped hydrocarbons, are projected to fall as much as 37 percent in North America this year, according to IHS Inc.