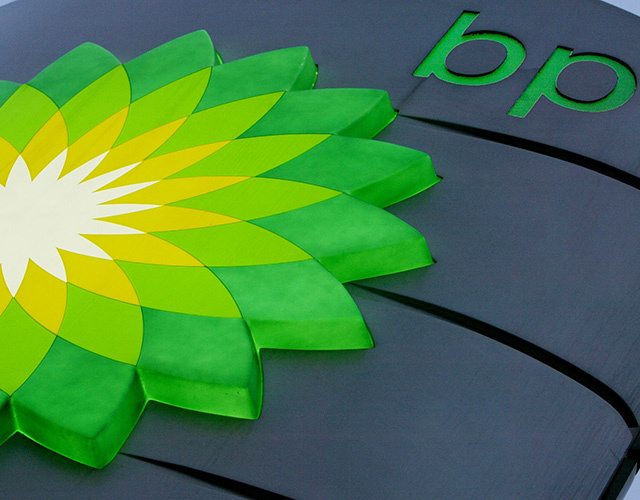 Oil giant BP reported a 40% drop in quarterly earnings after it was impacted by low crude prices, but still came in ahead of analysts' forecasts.
The firm's underlying replacement cost profit for the third quarter was 1.819 billion US dollars (£1.185 billion), compared with 3.037 billion US dollars (£1.979 million) a year ago.
However, the FTSE 100 Index was down 17.4 points to 6400.1, led lower by miners and uncertain prospects for global trade.
France's Cac 40 and Germany's DAX were both around 0.5% down.
The pound was slightly lower against the US dollar at just over 1.53, after official figures showed UK economic growth in the three months to September slowed to 0.5%, more than was expected.
Economists had forecast that growth would slow slightly from 0.7% in the second quarter to 0.6% in the third. Sterling was also slightly lower against the euro at just under 1.39.
BP was the strongest performer in the top flight, up 3.2p to 387.9p, after the business comfortably exceeded analysts' estimates of 1.2 billion US dollars (£780 million) profit.
Miners were among the biggest fallers, with BHP Billiton down 26p to 1105p, Anglo American fell 18.6p to 572.3p and Rio Tinto 23p lower at 2464p.
Outside the top flight there was welcome news for telecoms firm TalkTalk, with its shares up more than 10%, or 23.6p to 248.9p, after reports of an arrest in relation to its hack attack.
On Friday the firm revealed that the details of millions of its customers could have been accessed by hackers after a "significant and sustained cyber attack" on its website. The business had
lost 16% of its share price over the previous two sessions.
Recommended for you

Market Wrap: Recession concerns push oil lower and whipsaw stocks