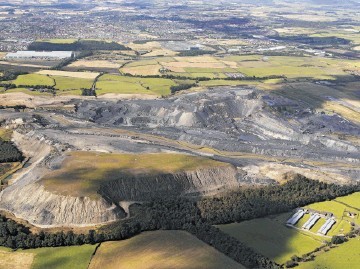 Mining giant Anglo American has plunged deeper into the red as it bore the brunt of tumbling commodity prices.
The FTSE 100 firm said it continued to face "strong headwinds" as it slumped to a full-year pre-tax loss of 5.5 billion US dollars (£3.8 billion), compared with a 259 million US dollar (£179.7 million) loss in 2014.
Group revenues also sank by more than a quarter year-on-year to 23 billion US dollars (£15.9 billion), as its basket price for products fell 24%.
The company said it will now focus on diamonds, platinum and copper as it unveiled a new strategy to boost the cashflow of the business.
Shares in Anglo American dropped nearly 5% in afternoon trading.
Chief executive Mark Cutifani said its "intense focus" on costs was helping to relieve some pressures on its finances.
He added: "We have made significant progress, albeit in an environment that has been deteriorating at a faster pace."
Anglo American sold off 2.1 billion US dollars (£1.4 billion) worth of assets in 2015, including its 50% stake in aggregates business Lafarge Tarmac and its Norte copper assets in Chile.
It also plans to sell-off its Rustenburg platinum operation in South Africa and coal assets in Australia over the course of this year.
Moves to cut costs and dispose of assets have seen Anglo American's workforce drop by just over a fifth to 128,000 since 2013.
Global mining giants have come under increased pressure from plunging commodity prices, including copper, which has more than halved since its peak in 2011.
Mining stocks have also tumbled in recent months amid mounting fears that slower growth in China, falling oil prices and low interest rates could put the brakes on the global economy.
Analyst Yuen Low, at Shore Capital, said Anglo American's full-year financials were "dire, albeit ever so slightly ahead of both our expectations and that of consensus".
Recommended for you

Is a new global oil supercycle looming?