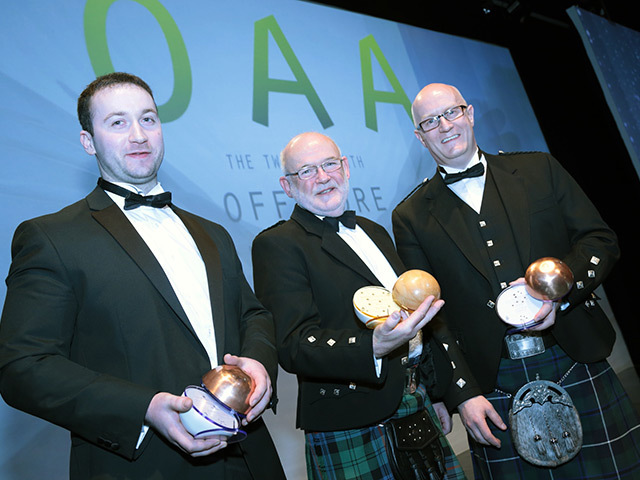 The hunt is on for potential winners of the 2016 Offshore Achievement Awards (OAAs) in a timely reminder of "great success stories" still happening in the energy industry despite its woes.
It is the 30th edition of the annual awards and today's start to the entry and selection process for the 2016 event falls amid a severe downturn for the oil and gas sector.
But the North Sea is still producing about 1.5million barrels of oil equivalent every day, and the 2016 OAAs aim to celebrate the expertise and effort behind activities supporting hundreds of thousands of jobs and contributing many billions of pounds annually to the economy.
Award categories include great large and great small company, young professional, emerging technology, safety and environmental innovation, collaboration, outstanding skills development, significant contribution and "above and beyond".
The significant contribution accolade is open to individuals, companies and projects which have had a major impact.
Awards organiser the Society of Petroleum Engineers (SPE) said the honours had evolved to "give a wider range of businesses and individuals the opportunity to be acknowledged for their outstanding work".
Ian Phillips, chief executive of the Oil and Gas Innovation Centre and SPE Aberdeen board member, added: "Despite a difficult year for many companies and individuals, there are still some great success stories to be heard and the Offshore Achievement Awards is one of the industry's most prestigious forums in which to share them.
"Celebrating success serves as an inspiration to many and recognises the innovation, teamwork and determination within our industry.
"There is much to celebrate in the UK's world-leading offshore renewables sector. These successes will be given the same priority as those within oil and gas, and we encourage those working within renewable-energy to apply."
The OAAs allow SPE to support community and industry initiatives to inspire the next generation of energy industry leaders, and develop the skills required for the future offshore workforce.
Workshops for young people and teachers, CV and mentoring programmes and student bursaries worth thousands of pounds are among the initiatives SPE Aberdeen and the OAAs help to support.
During this year's Offshore Europe oil and gas show in Aberdeen, groups of schoolchildren were spoken to by senior industry figures and given a guided tour of the exhibition to teach them more about the industry.
Pete Jones, managing director at North Sea firm Taqa UK, said: "It is critical that as an industry we continue to support the great initiatives that the SPE funds.
"Its work to nurture interest in science, technology, engineering and maths in young people is key to why we continue to support the OAAs."
SPE Aberdeen chairman Shankar Bhukya added: "After a difficult 12 months for the industry, it is vital that we continue to acknowledge the individuals and companies who have significantly contributed to the sector and shaped it into the ground-breaking industry that it is today."
Award winners will be unveiled in a ceremony at Aberdeen Exhibition and Conference Centre on Thursday March 17.
Recommended for you

Royal opening for £420m Port of Aberdeen expansion