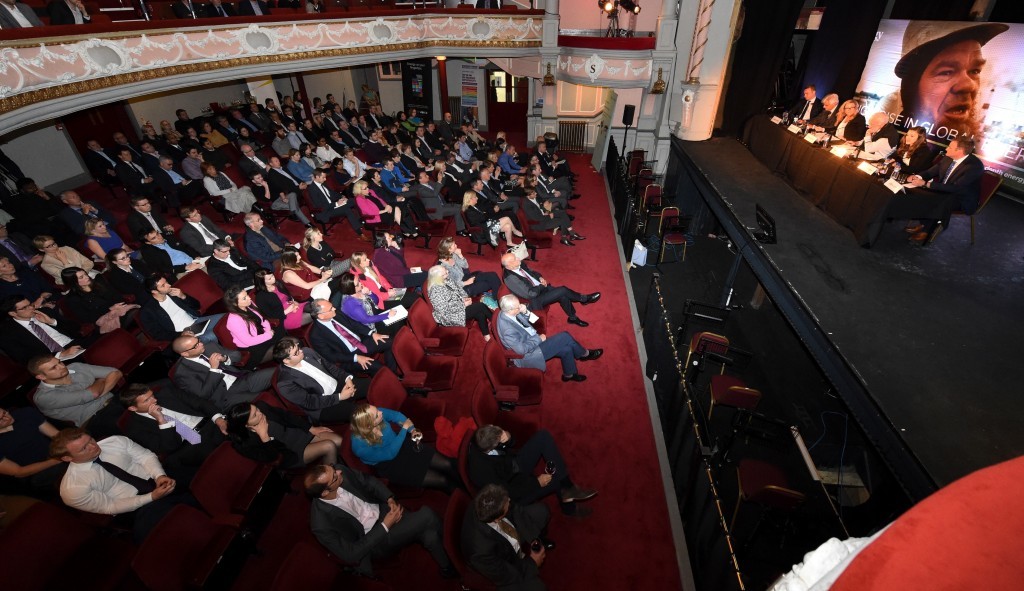 Sir Ian Wood said last night that the North Sea was facing one of its "toughest times ever" – but insisted it was "not dead by any means".
The industry doyen warned that the "worst thing" offshore firms could do was lose talented younger people and vital infrastructure during the current downturn.
He called for further UK Government action, including for the Treasury, the Oil and Gas Authority (OGA) and the industry to "get their heads together very quickly" to find solutions.
Sir Ian was speaking to more than 300 people at a summit organised by The Press and Journal's sister website Energy Voice at Aberdeen's Tivoli Theatre last night.
A panel of experts discussed the findings of a survey of 450 sector leaders, which was commissioned by Energy Voice.
Sir Ian reassured younger workers that they could still have a successful career in the North Sea – but warned companies to expect serious challenges in the short-term.
"Clearly, in the longer term, the industry will recover. Hydrocarbons will play a role for many years to come," he said.
"But if we're talking about the North Sea in the next two to three years, it's facing one of its toughest times ever. And the industry will be really pushed to try and see its way without losing resources, and the government, I believe, will have to have some further intervention," he added.
The former Wood Group chairman defended the new OGA, which was set up by UK ministers in the wake of Sir Ian's industry review.
In the Energy Voice survey, a large majority of sector leaders said they did not expect the body to have a significant effect, but Sir Ian said it would have a "considerable impact".
The businessman revealed he had discussed a secret report with Chancellor George Osborne that found billions of pounds of investment had been lost due to poor collaboration between key players.
On Aberdeen's future, Sir Ian said the city would be a "significant oil capital for 20-30 years" but that it would face a "real challenge further down the road" as it moved to diversify its economy and anchor oil and gas skills.
Last night's event, which was titled Energy 2050 – Securing Our Future, was held in the run-up to the Offshore Europe conference in Aberdeen next week.
Derek Leith, managing partner at Ernst and Young in Aberdeen, suggested there was little scope for major new tax cuts for the North Sea. "What we face today is not something anybody predicted but we have to deal with it," he said.
"Part of the way we have to deal with it is to stop expecting other people to solve our problems.
"Whilst the government has a role to play and whilst the OGA has a role to play, fundamentally, culturally there needs to be a change in the industry."
Andrew Reid, chief executive of Douglas-Westwood, which carried out the survey, said: "My view is that this industry will correct itself, it will recover.
"This fundamentally is an opportunity for many businesses to position themselves to be really strong going forward. That said, there are real challenges.
"When you look at government and what they can do, my view is that the government has done the right things, probably the most they could do."
Michael Engell-Jensen, co-chairman of Offshore Europe, was also on the panel. He said: "I'm an optimist and I think there's going to be a strong demand for oil going forward, provided we can solve the challenge of not losing the younger generation."
Rebecca Wain, a 24-year-old graduate geologist, represented that generation at last night's event, which was chaired by Energy Voice editor Rita Brown.
The young Statoil employee raised concerns about the number of graduates "struggling to get their foot in the door".
Speaking after the summit, Mrs Brown thanked all of the contributors.
"Tonight was a reflection of the appetite in the industry to finally break the cycle and solve both the cost and talent problems that the sector faces," she said.
"We had young people out of work directly asking Sir Ian for advice – we've not had that at any other event. I think it was a great success."

#OG2050 was supported by Burness Paull, RGU, EY, AVC, Fifth Ring and Douglas Westwood.

Recommended for you

Major new report delivers blunt message for North Sea industry