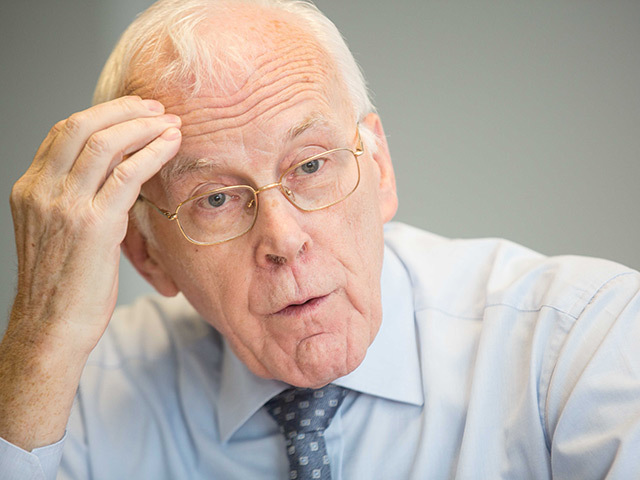 Sir Ian Wood said there had been a step change in focus by the North Sea oil and gas industry in how to persevere through the current downturn.
Speaking to Energy Voice following its Energy 2050 – Securing Our Future event at the Tivoli in Aberdeen he said it was clear the industry was "now prepared to give proper though about how it solves its problems".
He was one of a panel of experts who discussed the findings of a survey of 450 sector leaders, which was commissioned by Energy Voice.
The event was chaired by Energy Voice editor Rita Brown, who was joined by Andrew Reid, chief executive of Douglas-Westwood, Derek Leith, managing partner at EY in Aberdeen, Rebecca Wain, a 24-year-old graduate geologist and Michael Engell-Jensen, co-chairman of Offshore Europe.
The industry leader said the recent implementation this week of Oil & Gas UK's Efficiency Task Force (ETF) could play a key role in minimising the loss of key staff and resources during a downturn.
Video: Sir Ian Wood discusses the innovation of young people
He said: "I think industry is now prepared to give proper thought about how it solves its problems.
"I guess one headline for me is – every time there is a downturn – and I've been in the industry for a long, long time, we have a very quick knee jerk reaction, we pay a lot of young people off and then it recovers and then we try and get as many people as we can back in again and it costs a lot of money.
"I think the elephant on the table is the price of oil – that's a huge factor and then the other thing – there is a confusion about the short-term and medium-term. I still believe that the medium term in the oil and gas industry and certainly across the world and certainly for the next 20, 30 years in the North Sea is actually very good."
"The price will recover, we may not go back to where we were and we may lose some resources but the price will recover. The key challenge we have just now is the short-term.
"Right now, this is a really bad trough and you react differently during a downturn than when you recover.
"The key to me is how we minimise loss of resources, people resources, infrastructure resources to make the most of the recovery."
The businessman said he had been impressed with the level of discussion from young people who attended the event.
He said young people were "innovative" and bring a "different paradigm".
Sir Ian Wood said the industry "would be crazy" not to continue to invest in young people, despite the downturn.
He added: "There were some very helpful comments including from young people on the floor themselves and the danger is we're turning a lot of young people off."
#OG2050 was supported by Burness Paull, RGU, EY, AVC, Fifth Ring and Douglas Westwood.