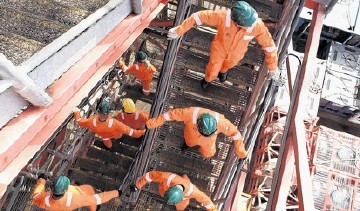 BG Group and Keppel Offshore & Marine have secured a licence to supply LNG bunker to vessels in the Port of Singapore.
The move comes after a joint bid was submitted to the Maritime and Port Authority of Singapore.
The two companies will form a joint venture to deliver an end-to-end bunkering solution using LNG sources from BG Group's diversified LNG portfolio.
Steve Hill, executive vice president, Global Energy Marketing and Shipping said:"Singapore is one of the world's most important strategic ports and we look forward to supplying LNG as a fuel for ships in this key market with first delivery expected in 2017.
"LNG produces considerably lower emissions than conventional marine fuel and can significantly reduce a vessel's environmental impact. We look forward to working with Keppel on the safe and reliable supply of this cleaner fuel source and the ongoing development of Singapore as a leading hub for LNG in Asia."
Meanwhile BG Group's merger with Shell is expected to gain final approval from investors this week.
Shell's takeover of BG will create a £122.5billion British giant.
Recommended for you

Singapore's Keppel terminates three contracts as clients fail to pay