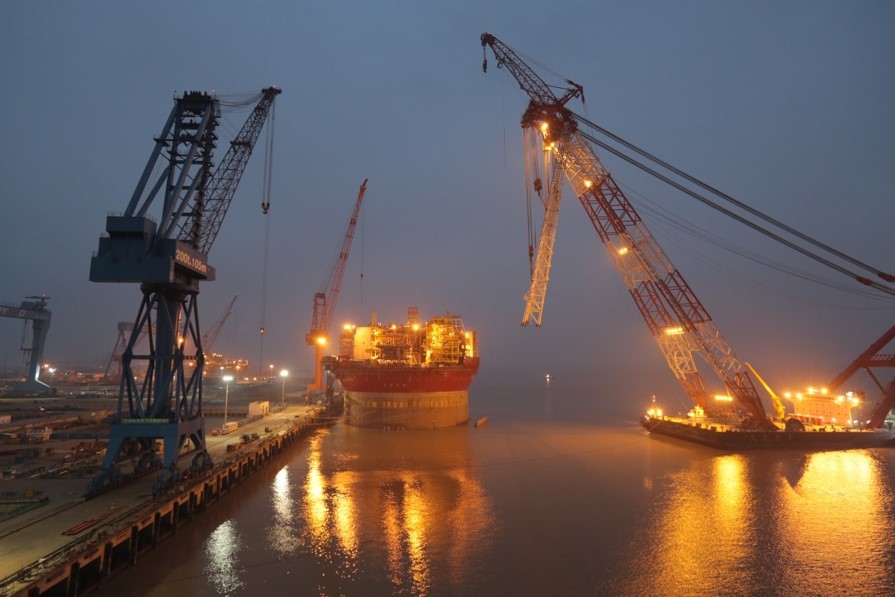 As sub-$30 oil and thousands of job losses dominate headlines, Eiko van Dalen and his team at Dana Petroleum are silently toiling away on a project that will double the company's daily output.
The next big deadline? March, when Dana will mobilise a rig to drill the next batch of wells for Dana Petroleum's flagship Western Isles.
The 17-year Dana veteran and his team were tasked with rebaselining the project a little more than a year ago.
The job description of the capital projects director included convincing the board to press the "reset" button.
"We were of course, a few years ago, getting ready for having first production from our FPSO somewhere around now actually. I joined the project late 2014 and at the time the project was in a stage where something needed to happen because it was not going well," he said.
"The good thing that we could do regardless of what was done in the past and who said what was to use a fresh set of eyes and ears and look at the project again.
"After a couple of weeks, we were able to summarise to our stakeholders the state of the project at that time. We knew it was a difficult message and we knew it hurt, but to make sure we are able to deliver a compliant plant and start-up a safe operation we basically needed more time and more money, and it's as simple as that.
"It was a message that was of course painful, because we had other expectations for the project, but this was the reality we had to face.
"We re-baselined the entire project. We pushed the reset button in a way."
Now on the other side of readjusting expectations and cutting back costs, Dana is starting to see the fruits of everyone's labour.
"We have signed our contract with Diamond Drilling for the Ocean Guardian," he said.
"That rig is currently in Edinburgh and we will have it available to us in March, that's when we will recommence drilling operations on the project. We still have five wells to go, so we will drill two wells this year and a few others in 2018.
"In total the project will have nine wells. Four of them have already been drilled in the northern drill centre. These next wells will be drilled in the southern drill centre. These two centres will then be tied back to the FPSO by means of pipeline bundles and flexible risers.
"These bundles are a really interesting piece of technology, because they not only include the lines, which will transport the product – the oil and gas – back to the FPSO. They also provide us the electrical (signals) and hydraulics (power) we need to operate our subsea equipment, and allow us to inject water and chemicals. There is a lot of interesting technology on the FPSO and some innovations including a closed flaring system. The innovations are not just limited to technology, all crew members will for instance have single person cabins."
But it wasn't about just re-calculating, Dana has had to move forward one of the UK's most significant projects against a depressed oil price backdrop.
"When I joined I thought this must be the low point of the project and the only way will be upwards," he said.
"And then the oil price dropped and the industry gets into the situation we're in now, so it has been a big, big challenge to move this project forward in its current environment. That is why it's so encouraging to see the progress we have made. It's fantastic and so great to be part of it."
Dana, which was hit by delays and overspend on the project, sent a 100plus-strong team to work alongside Cosco's personnel last year.
A total of 1,200 Cosco personnel are currently constructing the FPSO in China. The FPSO's naming ceremony is expected to take place in the third quarter of this year, sailaway is planned for the fourth quarter and first oil for 2017.
It will be a milestone first for the site.
But that doesn't deter Van Dalen. He worked with the Hyundai Heavy Industries yard in South-Korea on a similar project when they constructed the Dana operated Hanze platform for the Dutch North Sea. This platform, which was the first major project for Hyundai in the Dutch sector, is still a strong producing asset for Dana.
He said: "With Hyundai and Korea the industry was looking at us asking can it be done?
"We showed it with Hyundai and we will show it again with Cosco. It will be a great sight to see. It's a big thing for Dana and a big thing for Cosco and that's why I am really looking forward to the naming ceremony," van Dalen said.
"We will have a new FPSO, which is going to be transported with the second largest transport vessel in the world, which is also being built by Cosco."
He added: "We expect the FPSO to sailaway to Europe in November and we intend to achieve first oil at the end of 2017.
"This is a worthwhile prize. It's going to produce 40,000 barrels of oil a day when it comes on line. That's a significant amount of oil. "
It equates to a 5% boost for the UKCS and a nearly 100% increase for Dana, which is currently producing over 50,000 bopd – over 6,000 bopd higher than the projected year end figure of 44,000 bopd.
Van Dalen insisted there was one very clear learning for Dana's own readjustments and the industry's current challenges.
"We're in this together," he said.
"Yes, we are the operator and the owner of the FPSO but without all the companies involved, we wouldn't be able to deliver.
"It's not all negative in the industry just now. The Western Isles project will create value for Dana and our project partner Cieco. When we move to production, the project will also create opportunities for other companies to get involved in providing services and support.
"It's one of the biggest projects being worked on in the North Sea, so let's be proud of that. We should be proud of where we now are but we have a lot work ahead of us over the next two years.
"We have increased the project budget from $1.6billion to $2billion and allowed two more years to bring it online.
"The fact that we spent more money, as long as we are reminding each other that we are spending it in the right place – to make us compliant and safe – then there's no hard feelings. It will be very soon quickly forgotten once we get first oil."
Recommended for you

Floating wind solutions from an unlikely ally: offshore drilling