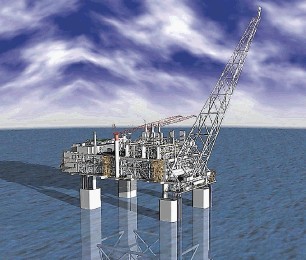 The cost of Chevron Corp.'s Wheatstone liquefied natural gas project in Australia with partners including Woodside Petroleum Ltd. may rise about 14 percent to $33 billion after its start date was delayed by about six months, according to Macquarie Group Ltd.
That would add to budget overruns in the LNG industry in Australia, which is forecast to overtake Qatar as the world's biggest supplier of the fuel. Chevron said last week it expects first LNG cargoes from Wheatstone in about mid-2017, citing a delay in building parts of the project in Malaysia. The company had expected the plant in Western Australia to begin in late 2016.
While Chevron didn't provide an updated cost estimate with a review of expenses to be carried out in the second quarter, "schedule slippages rarely do not transpire to additional cost pressure," Kirit Hira, a Sydney-based analyst at Macquarie, wrote in a note on Monday.
A weaker Australian dollar will probably ease some of the pressure on the project, previously estimated to cost about $29 billion, according to Macquarie. Chevron owns a 64 percent stake in Wheatstone. Other partners include Kuwait Foreign Petroleum Exploration Company and Kyushu Electric Power Co.
Writedowns of as much as $1.2 billion that Woodside has previously flagged took into account the potential for a revised Wheatstone schedule, Australia's second-biggest oil and gas producer said in a statement Monday.
Chevron has succeeded in "mitigating further delays" and "all modules required for train one are now on site," the company said last week. About 85 percent of Chevron's LNG from the development has been committed to customers, according to its website. The project will have an initial capacity of 8.9 million tons a year.
The budget for Chevron's Gorgon LNG project, also in Australia, has risen to $54 billion from about $37 billion. In September, Inpex Corp., Japan's biggest energy explorer, delayed the start of its Ichthys LNG project in northern Australia and said costs may increase about 10 percent.
Recommended for you

First US LNG FID of the year with Venture Global