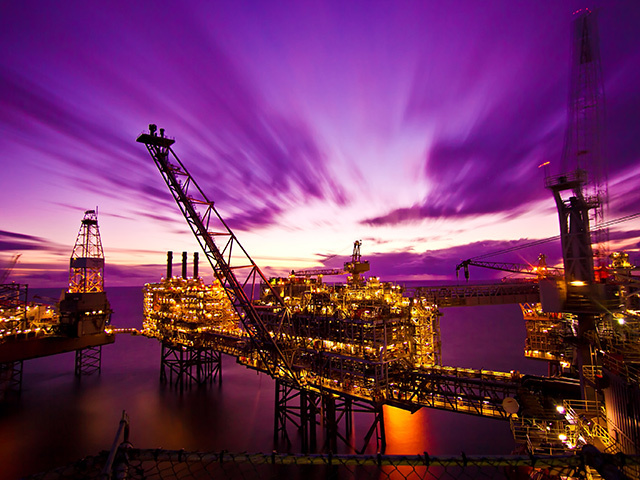 BG Group Plc, pioneer of natural-gas shipping, will trade on stock exchanges for the last time on Friday, 19 years after it was created.
The shares will delist Monday as BG becomes a fully owned unit of Royal Dutch Shell Plc following the industry's biggest acquisition in more than a decade. The stock has increased ninefold since 1997, when former state monopoly British Gas Plc split its exploration and production arm from retail. Shell gained just 15 percent in the period, while BP Plc declined 4.4 percent.
The BG takeover will catapult Shell into second place among the world's most valuable public oil companies, behind Exxon Mobil Corp. Shell plans to run BG as a subsidiary initially, merging the two companies over the course of a year, according to two officials with direct knowledge of the matter. BG's assets, including gas projects from Australia to Kazakhstan, will help the Anglo-Dutch energy giant ride out the oil-price slump.
"It's the end of an era, but BG is going to continue to add value for Shell," said Jason Gammel, a London-based analyst at Jefferies International Ltd. with a buy recommendation on both companies. "The BG acquisition expands the Shell portfolio with investment opportunities that are low on the cost curve. Shell enhances its competitive advantages with its peers."
Shell, already the world leader in liquefied natural gas, will boost its LNG capabilities further with the acquisition. BG, whose predecessor the U.K. Gas Council shipped LNG from the U.S. to Britain half a century ago, now boasts liquefaction projects in the Americas, North Africa and Australia.
Absorbing BG
Senior executives at Shell and BG met in The Hague at the end of January after shareholders approved the transaction, putting it on course for completion Feb. 15, Shell Chief Executive Officer Ben Van Beurden said last week. They discussed preparations for the first day of the merger and the subsequent integration, he said.
Shell's Huibert Vigeveno will lead BG, starting Monday, until it's fully merged, BG said in a statement. Vigeveno, who previously led Shell's China operations, currently heads an integration team of executives from both companies.
A Shell spokesman declined to comment on its plans for integrating BG until the deal is formally completed.
Some 57 years ago, the U.K. Gas Council transported LNG from Lake Charles in the U.S. to Canvey Island in the U.K. using a converted naval vessel called the Methane Pioneer, according to BG Group's website. That was followed soon after by a 15-year contract to transport 1 million metric tons a year of the chilled fuel from Algeria to Britain, the world's first LNG export deal.
BG Evolution
The Gas Council was privatized in 1986 and became British Gas. That was split in 1997 into BG Plc — which kept the exploration and production unit and the U.K. energy transmission and distribution division — and Centrica Plc, which inherited the British retail businesses. BG Plc became BG Group in 2000 when the transmission and distribution networks were demerged.
Since then, BG Group's oil and gas reserves have more than tripled to about 3.6 billion barrels of oil equivalent, according to data compiled by Bloomberg. Shell was willing to pay a premium for them even as oil prices slumped: BG will increase Shell's reserves by 25 percent and its production by 20 percent. Its LNG projects will add to those Shell acquired from Repsol SA in 2013, making that business twice as big as Exxon's.
BG was an "obvious target" for Shell, Jason Kenney, an Edinburgh-based analyst at Banco Santander SA, said by phone, citing the company's Brazilian oil finds as well as its position in LNG. "It was simply a matter of waiting for a decent price point to make a bid."
CEO Departure
BG has had its problems. Former CEO Chris Finlayson resigned in 2014 after little more than a year following missed production targets. The company suffered project delays from Brazil to the North Sea and disruptions to LNG exports from Egypt.
Production picked up last year as output from Australia and Brazil increased. Shell swept in with a $70 billion offer in April, a 50 percent premium at the time.
"We are all looking forward to that day when we will, as an executive team, be spread out over key locations around the globe to celebrate together with our new colleagues the birth of the most exciting energy company in the world," Van Beurden said last week.
Recommended for you

$5bn worth of oil and gas assets up for sale in Southeast Asia