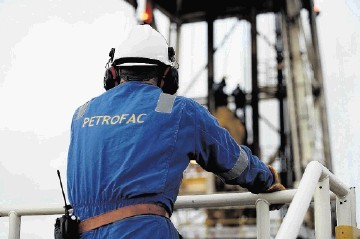 Petrofac profits have been hit by a double whammy of low oil prices and accounting for a loss from its Shetland Islands project.
Profits fell by nearly a quarter, as its customers held back on spending due to the slump in oil prices and the impact of the Laggan Tormore plant in Shetland took its toll.
Petrofac reported a net profit of $440 million for the year ended December 31 2015, before accounting for the Laggan Tormore project, compared with a net profit of $581 million a year earlier.
After accounting for the loss on the project in the North Sea, the company's net profit fell to just $9 million.
Last August, Petrofac boss Ayman Asfari has admitted mistakes were made in the handling of the delayed Laggan Tormore gas development.
Revenue grew 10% to $6.8billion.
Ayman Asfari, Petrofac's Group Chief Executive said: "Our results for 2015 were adversely affected by the Laggan Tormore project on Shetland. However, we faced up to the exceptional challenges we encountered and honoured our commitment to our client.
"With the plant now successfully operational, these issues are finally behind us.
"Petrofac's core proposition is based on strong project execution, clear geographic focus, a disciplined approach to bidding and a sustainable, cost-effective structure.
These strengths have positioned Petrofac well in a very challenging period for the oil and gas industry.
"We enter 2016 with a renewed focus on our core strengths.
"The Group's backlog stands at record year end levels, giving us excellent revenue visibility for 2016 and beyond. We remain committed to reducing the capital-intensity of the business and managing the IES portfolio to maximise value.
"Our balance sheet remains robust, our working capital position has improved and we remain dedicated to delivering shareholder value."
Recommended for you

Equinor sets new record as profits double in full-year 2022 earnings