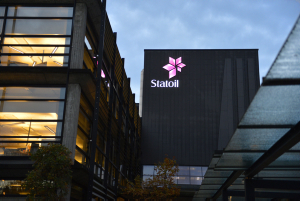 Norwegian oil producer Statoil sees the crude price downturn as a chance to slash costs and become more efficient, with a senior executive calling it a "great opportunity" to improve operations.
Torgrim Reitan, Statoil's head of United States operations, said his goal is to retool the company's shale and offshore oil projects to be nimble enough to survive across a range of oil prices.
"A price downturn like this only happens once every 20 years, and it's a great opportunity," Reitan said on the sidelines of the IHS CERAWeek conference, the world's largest annual gathering of oil executives.
"You will never have a sense of urgency like you do right now."
Reitan took the reins of Statoil's US operations last fall and immediately confronted a division struggling with high costs, senior executive flight and questions about where best to allocate capital.
Four American Statoil leaders jumped ship last year to form their own oil company, a brain drain of talent at one of the worst times for the Norwegian state-owned company.
Already, Reitan has laid off 20% of his staff and slashed the cost per barrel to produce oil by more than 40%.
"If you get it right these days, you can make some lasting changes that will stand for years and years," said Reitan, who previously was Statoil's chief financial officer. "The winners of the next decade are shaped today."
Reitan's generally upbeat outlook – effectively making lemonade from the low-price lemons – stands in stark contrast to the dour mood permeating much of the CERAWeek conference in Houston this week, with rival executives forecasting a lower-for-longer oil price scenario and further industry contraction.
Reitan himself acknowledged that oil prices need to rise and that cost cuts and efficiency gains alone will not help Statoil.
He holds a goal for his division to be profitable at oil prices of $50 per barrel by 2018, which would be an improvement from the $90 per barrel level in 2014.
Still, oil prices hover below $30 per barrel today.
"I do see a very tight market going forward, with a big, big demand for our products over time," Reitan said.
Recommended for you

Make oil production greener by going local