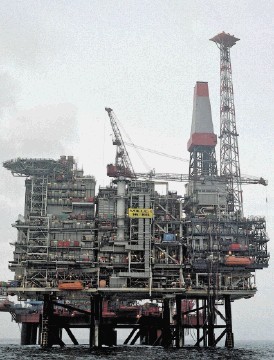 The chief executive of the new oil and gas regulator has said it stands "fully ready" to support the carbon capture and storage (CCS) sector in the future.
Andy Samuel was asked about the UK Government's 11th-hour decision to axe a competition for £1billion funding at an energy conference this week.
Plans to build a ground-breaking CCS plant at Peterhead came to a halt following the blow, announced on the Stock Exchange in November.
Mr Samuel said the Oil and Gas Authority (OGA) – which will be formally established when the Energy Bill becomes law – has a remit for the offshore storage part of the industry.
He insisted the regulator would not get directly involved in policy matters.
But he added: "We stand fully ready to support CCS … we are working with one company who weren't involved in the competition and who continue to want to progress their plans.
"Personally I support it, but economics have to work clearly as well."
He told delegates at the Southern North Sea Conference in Norwich: "We will ramp up if we need to, if it takes off again and we would be delighted to do so."
Conservative MP Peter Aldous put the pulling of funding down to a failure within the CCS sector – unlike offshore wind – to respond to calls to cut their costs from 2010-15.
He said: "This is my perception and I think this is probably how government viewed it.
"If you look at the offshore wind sector, it was told at the beginning you have got to get your costs down if you are going to have a future.
"They responded and they got their costs down, they actually carried out developments.
"If I look at CCS, which I support, they were probably in exactly the same situation in 2010 as they were in 2015, they haven't moved forward at all."
He insisted the Government is taking the technology seriously, pointing to the committee being chaired by former Shell boss Lord Oxburgh to examine how to drive new investment in CCS.
Mr Aldous, who represents Waveney in Suffolk, added: "It's quite clear the very low commodity prices are really making CCS difficult and we are going to have to think very, very clearly as to how to come up with a solution that enables it to be taken forward.
"There is nothing in principle against CCS in government, it's a question of how we do it."
The UK Government says it has not closed the door to CCS and is considering the role it could play in the long-term decarbonisation of the country.
Recommended for you

OGA launches £1m platform electrification competition