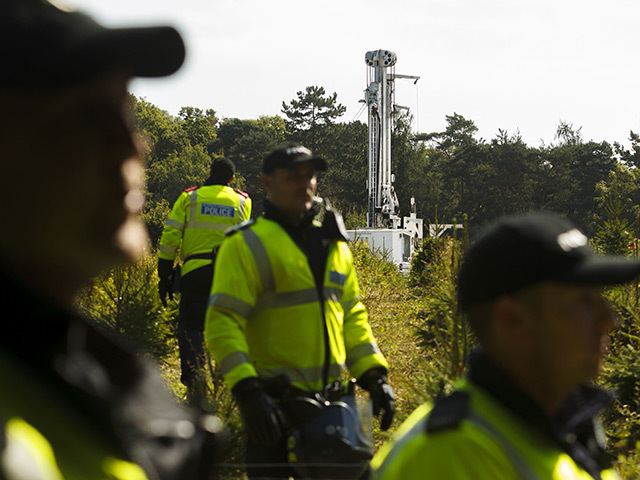 The Liberal Democrats have performed a U-turn on fracking as the party pledged its Holyrood election manifesto will include a commitment to oppose the controversial practice.
Activists at the party's Scottish conference in Edinburgh last week voted in favour of lifting the current moratorium, which prevents unconventional extraction of oil and gas in Scotland.
Members at the conference supported an amendment which called for the temporary ban to be ended by the next Scottish government, "providing the potential for Scottish-sourced unconventional gas to supply our important petrochemical industry".
But after a meeting of the party's policy committee, which includes Scottish leader Willie Rennie and energy spokesman Liam McArthur, it was announced the manifesto would oppose fracking on climate change grounds.
Mr Rennie said that as part of the Lib Dem pre-election manifesto, which was backed by the conference, members had "voted to support clean, renewable energy to protect our planet".
He added: "Fracking isn't either of those things. Allowing it in this country would harm our pursuit of a greener Scotland."
Mr Rennie added: "Scotland has missed its climate change targets for the last four years. We need an energy mix that will help us cut down on emissions, not boost them.
"Fossil fuels will remain part of the picture for years to come but our focus must be on supporting renewables rather than increasing carbon emissions. We don't want to distract from this by opening up a whole new front of carbon-based fuels and energy production.
"Scotland needs a strong climate change policy that does not divert investment and research away from green technologies.
"Liberal Democrats have bold proposals to make sure Scotland's energy needs are met by renewable resources that do not inflict long-lasting damage on the environment. Protecting the environment and ensuring a sustainable legacy for our children needs to be put back at the top of the agenda.
"In contrast, the SNP's stance on fracking seems to get cloudier by the day. I am against fracking. Nicola Sturgeon needs to be clear where she stands."
A spokesman for the First Minister said Ms Sturgeon is "highly sceptical about fracking" but insisted that policy in this area "will continue to be led by the evidence".
In January 2015, the Scottish Government announced a moratorium on fracking. At the same time it pledged it would undertake a full public consultation on unconventional oil and gas extraction, and also commission a public health impact assessment.
Scottish Labour leader Kezia Dugdale said this week her party would have a "very clear manifesto commitment" not to allow fracking in Scotland.
WWF Scotland director Lang Banks said: "It's great to learn that the Scottish Lib Dems are once again supporting a ban on fracking.
"Willie Rennie and the Scottish Lib Dems are absolutely right that fracking and other unconventional oil and gas are incompatible with moves to reduce carbon emissions.
"We now call on all the political parties to clearly set out how they will deliver on their pledges to ensure Scotland delivers on its climate change legislation, and secure the full benefits of low-carbon society."
Scottish Greens co-convener Patrick Harvie said: "The Liberal Democrats are all over the place on this issue. First they gave fracking the green light when they ran the UK Government's energy department, then they wanted a ban, then they didn't, and now their Scottish leadership is going against members' democratic vote.
"Nobody thinking of voting LibDem can possibly know what their policy will be next week, never mind the other side of the election.
"The Scottish Greens take pride in being a democratic party, and both our membership and leadership are united in demanding a full ban on fracking and unconventional gas."
Recommended for you

Sunak reinstates fracking ban in reversal of Liz Truss policy